While we might not believe it, the fact is that everything happens for a reason. Luck and Coincidences are man's way of explaining inexplicable events that occur when we least expect them to. However, the truth is that it is really God who makes the world go round and makes miracles happen.  There is God's hand behind every little something that you cannot associate a logic to and that's when you know that you need to have more Faith in Him, just like this woman in Colorado.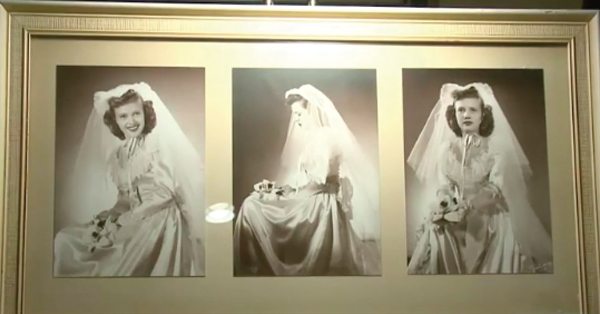 Jane Fine Foster, a resident of Grand Junction, Colorado recently witnessed probably the most exhilarating and awe-inspiring moment in her life when she was reunited with some of family's most cherished belongings after having lost them for over a decade! Call it luck or one of God's countless miracles, but Jane could not believe her eyes when she spotted her family's precious valuables in an antique store in her hometown.
The miracle of a lifetime
One fine afternoon, Jane was taking a leisure walk around the neighborhood in Grand Junction when she walked passed an antique store called A Robin's Nest. Although, she wasn't really looking to make any purchase from the store, there was a portrait picture hung in the window that made her stop dead in her tracks.
It was her mother's photograph.
What stared back at her from the antique store window was a lovely monochrome photograph of her mother that had been clicked on the latter's wedding day back in 1948!
Amazed at the sight of her dead mother's lost photograph, Jane let out a loud scream. In an interview with the KKCO News, Jane expressed her surprise by saying, "Why would I be downtown and just happen to be in that block and happen to see it? It just, it boggles my mind." She further added "To say I was shocked, stunned, near paralyzed is an understatement. I actually screamed out loud. I just kept blinking and looking again, like, Can that be? Of course, it can be. It was my mom."
Although Jane's mother was only recently deceased about four years ago, the whole bunch of her wedding photographs from more than half a century ago had been missing for a longer period.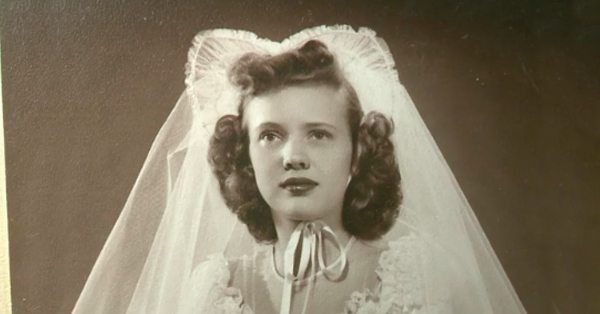 It all dated back 12 years when after the sad demise of Jane's father, a whole bevy of the Foster family's valuables had been transferred to a storage unit in the city of Arizona. Unfortunately, due to a failure to keep up with the storage unit rent payments, all the family's precious belongings including the wedding photos were eventually auctioned off.
While the storage company did not inform the Fosters about the auction, they came to know about the loss of their family's belongings only after a few months. Although, Jane made extensive efforts to track down the leads for people who might have bought the items that held a serious sentimental value for her, she couldn't really manage to make any progress and eventually gave up all hope of ever recovering them.
This is exactly why Jane was absolutely dumbfounded when she saw her mother's lost wedding photograph in the window of the antique store. One of the biggest mysteries that still fascinates Jane is the fact that the items inexplicably made it all the way from Arizona (where they were auctioned off) to the city that she lived in!
And there's more to come!
While the photograph of her mother was enough to stir up a million emotions in Jane, there was another surprise waiting for her in the basement of the store. Shane Allerheiligen, the shop owner also had Jane's mother's wedding dress preserved in the basement storage!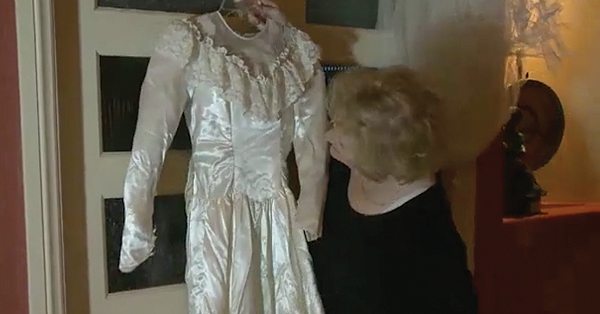 Now, this was a day of recurrent surprises!
Shane went down to the basement and retrieved the original box containing the wedding dress and also a newspaper that was dated June 22, 1948, which was just two days after her parents took their wedding vows. An absolutely astounded Jane, instantly decided that she could not let go of those precious items that preserved her mother's fond memory and enquired about the sale price of the dress from Shane. However, to her surprise, the shop owner refused to quote a price and said," There is no price. It's made its way back to you. It's home."
It is simply unbelievable how after having lost all hope of ever recovering her family heirlooms for over a decade in Arizona, Jane finally reunited with her family's long lost memories in an intriguing turn of events in her own hometown!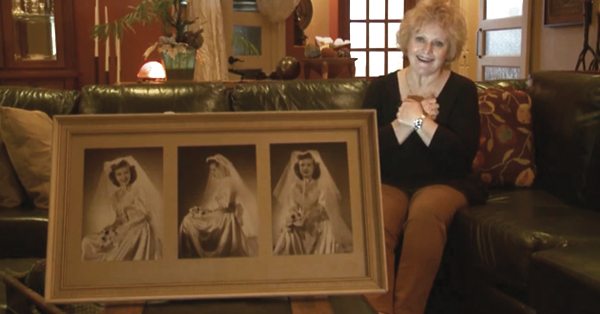 The Hand of God
While a great act of kindness from a stranger and a miraculous sequence of events majorly contributed to the reunion, Jane still believes that her mother had a pivotal role to play in it as well. She believes that being able to recover her family heirlooms is a sign that indicated the presence of her mother around her. She strongly believes that it is her mother's way of saying that she is always there for her and still watching over her from the heaven. A visibly moved Jane said, "This is a message to us that she is still thinking about us and watching over us."
Regardless of what you may call it, it is these inexplicable moments of euphoria that our faith in God is eventually restored. They make us believe in his presence and rekindle our trust in the Almighty. What happened with Jane happens with millions of us. However, it takes a person of faith to believe in miracles and regard such events as a blessing from God. It is in these simple moments of happiness that God manifests himself and makes his presence felt. You find exactly what you are looking for, when you stop looking for it. You do not need a drastic turn of events in your life to feel the existence of God. It is the thousands of trivial events everyday that make a life worth remembering and being grateful for.