As the death continue to climb from California's deadliest wildfire in history, stories of heroes — firefighters, first responders and everyday courageous people — have started to emerge.
Allyn Pierce is a registered nurse and manager of the I.C.U. department at the Feather River Hospital in Paradise, California.  He has dealt with his share of emergency situations before, but nothing quite like what he has experienced with the wildfires. Like all his neighbors in Paradise, he was forced to evacuate the area when the fires started getting too close.
At one point, Pierce's own life was in immediate danger after he became gridlocked in unmoving traffic, the flames continuing to rise around him as he sat there unable to move. After recording a message to his family, however, Pierce was suddenly given a way to escape when a bulldozer cleared the way for cars to move.  God made a way!  But instead of driving on to safety, Allyn turned around to help more people escape.
On Twitter, Jack Nicas posted photos of Pierce's truck, a Toyota Tundra, after it emerged from the fire, and it's pretty unbelievable.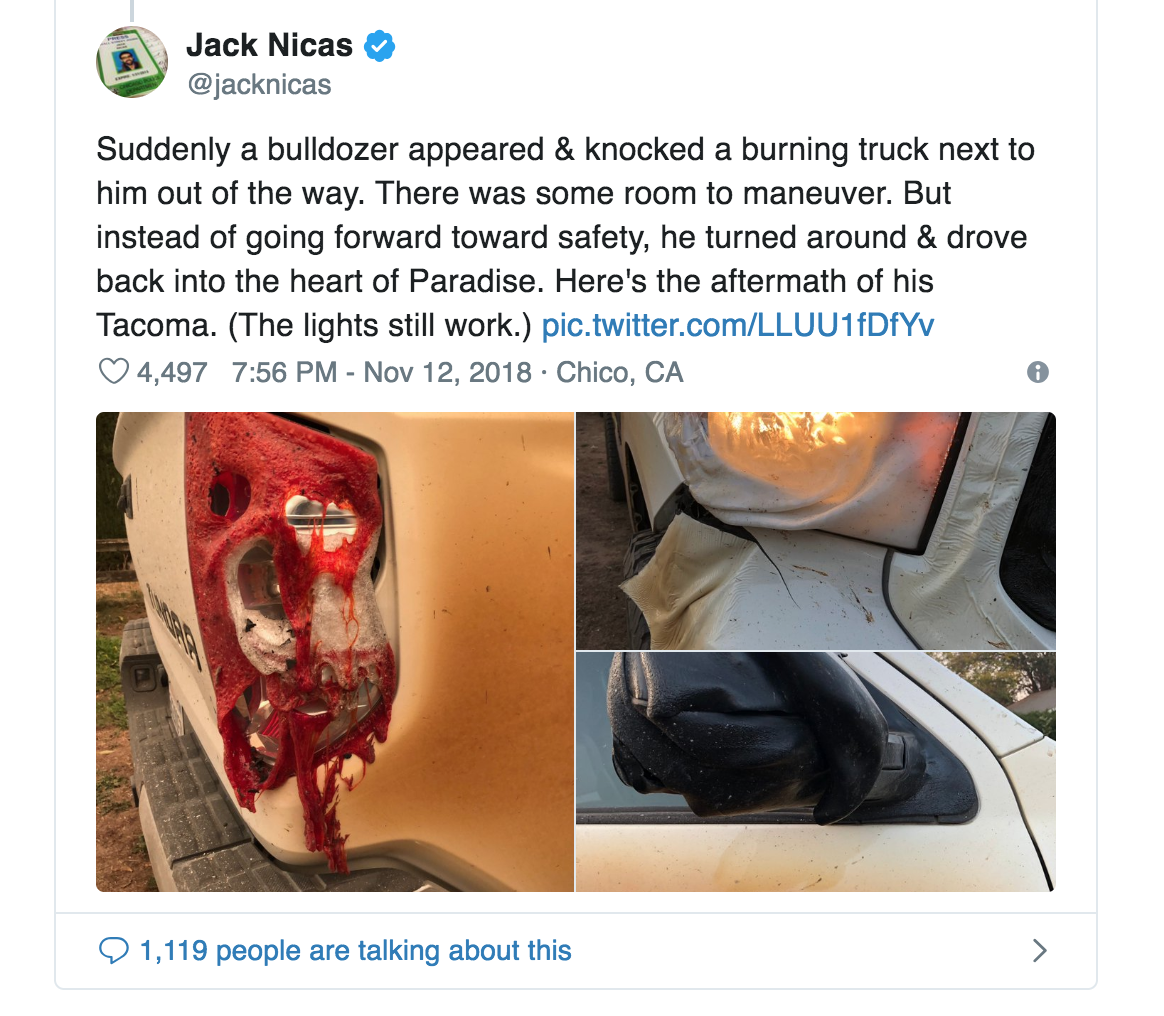 Pierce shared some photos on Instagram, saying the vehicle saved his life — and one car company took was watching.
Toyota said on Twitter yesterday that it is offering Pierce a new Tundra in response to his heroic efforts. Many people tweeted to Toyota to make the suggestion, including @AlanEurotrash, who wrote, "Imma leave this right here."
Toyota's response? "Hi Alan, good news — we are honored he risked his life and Tundra to save others, so we're giving him a new truck."
Tomorrow is #TRDtakeover day! Follow us to see the new #Camry & #Avalon #TRD & exclusive content from our drivers pic.twitter.com/BOqJFRbmjb

— Toyota USA (@Toyota) November 13, 2018
How great is that?
Toyota also commented on Pierce's post on Facebook about the truck, writing, "Hi Allyn, we are humbled you'd risk your life and Toyota Tundra to drive people to safety. Don't worry about your truck, we're honored to get you a new one!"
At the time this story was published, 44 people had died as a result of the wildfires.