It is often said that kindness and love are never wasted. These virtues not only benefit the receiver but bless the giver too. Unfortunately, humility and respectful attitude are often regarded to be weaknesses which prompt people to mistreat a kind person or take advantage of their helpful nature. We, however, need to have faith that one day we will be rewarded for our kindness.
Kindness Shines Through the Cloud of Intolerance
Zach Randolph, an employee of Great American Cookies in Texas, tried to pay his respects to the police force by treating a police officer to a dessert. Little did he know that this seemingly altruistic act would land him in great trouble.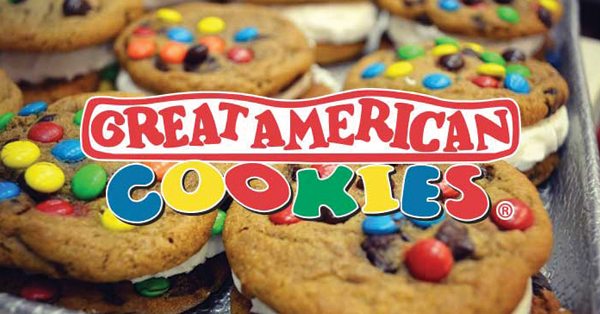 As a means of thanking the police for their selfless service, Zack wanted to pay for an officer's cookie. He paid the entire amount of $2.75 for the dessert, not even utilising his employee discount. What followed next left everyone shocked.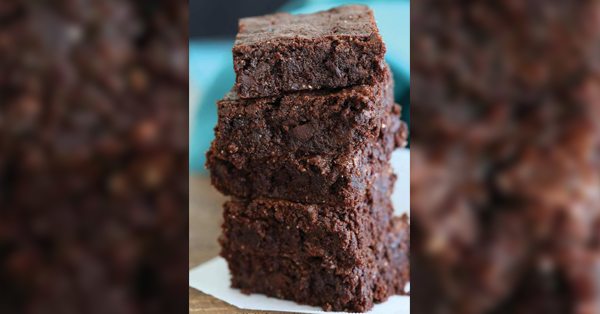 As the police officer left the counter after thanking Zack, the next customers in line walked up and demanded the same favor. The couple demanded to be given free desserts and became extremely agitated when they were refused. Zack recounted that the man did not limit himself to verbal abuse but tried to get around the counter to reach him. The woman too, called Zack a racist and threatened to slap him. Had it not been for Zack's assistant manager and co-worker, the man would probably resort to physical violence as well. Although the couple left after telling Zack, "You know you're probably going to get fired", the matter didn't end there.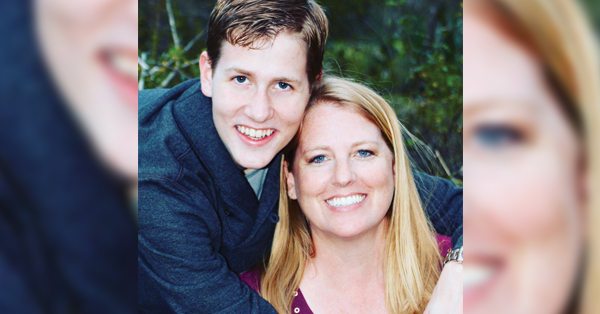 Zack soon received a message to meet his senior managers with all his belongings. He was initially asked to leave right away but thanks to the intervention of his manager, he continued with the day's shift. His manager was so impressed with his work that he had been offered a $2 per hour raise the day before. Zack was called again after 2-3 hours and handed a note that had details of the incident and blamed him for unprofessional behaviour. He was suspended for a week and told that his job would be terminated if such an issue occurred again. Being the polite and dedicated worker that he is, Zack accepted the verdict gracefully, and left only after finishing his shift.
Justice Delayed but Found
Zack's mother Tami was outraged by the way her son had been punished for no fault of his own. Her Facebook post regarding the same echoed far and wide and soon there were social media posts condemning the company's actions. This public outcry forced the company to issue an apology and recognize the unjust nature of their decision. Zack's suspension was repealed immediately thereby bringing justice.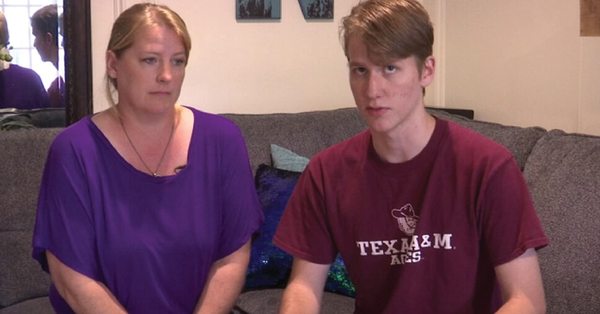 While the company's intolerant and harsh attitude is nothing short of appalling, it is heart-warming to know that people like Zack still exist. Even the threat of termination did not douse the spirit of kindness in him as he never regretted his actions. It is such selfless love and concern for others that can triumph over all the hatred in the world.
Below is Tami's Facebook post:
For the first time since my post on July 5, the Company reached out to Zack on Wed July 12 to offer a verbal apology, offered to pay for the hours he was scheduled during the suspension, and hoped he would return to work. Zack returned the call and left a message asking if he could receive a written apology (for reference, if needed for future employment). He has not heard back from them or received a written statement at this time.My Son works at Katy Mills Mall and on Sunday evening an on duty Police Officer walked up to the counter and placed his order. My son offered to pay for his cookie with his own money. The officer was grateful said thank you and walked away…..
The next family walked up and said "are you going to buy mine too?" My son replied with "I'm sorry I bought his because he is wearing a badge"…… then this customer started verbally attacking him, calling my son a racist, & threatened to beat him up. His wife threatened to go back there and slap him.. The middle aged man sat down his little daughter and tried to come behind the counter to attack him. Thankfully his coworker defused the situation. The man then said "I will get you fired".
As soon as this man started the attack my son, he stepped back and walked away… he said very little to this man.
On Monday he received a text stating that he was to bring all of his "stuff" the next day for a meeting with his manager and upper manager.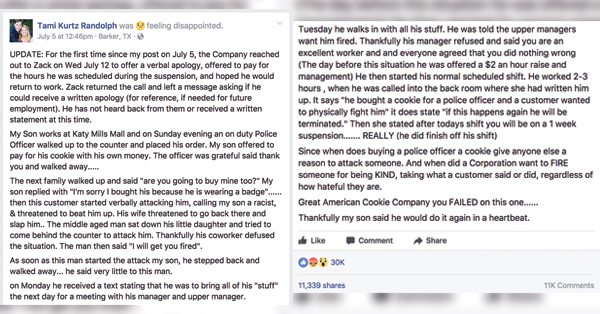 Tuesday he walks in with all his stuff. He was told the upper managers want him fired. Thankfully his manager refused and said you are an excellent worker and and everyone agreed that you did nothing wrong (The day before this situation he was offered a $2 an hour raise and management) He then started his normal scheduled shift. He worked 2-3 hours , when he was called into the back room where she had written him up. It says "he bought a cookie for a police officer and a customer wanted to physically fight him" it does state "if this happens again he will be terminated." Then she stated after todays shift you will be on a 1 week suspension……. REALLY (he did finish off his shift)
Since when does buying a police officer a cookie give anyone else a reason to attack someone. And when did a Corporation want to FIRE someone for being KIND, taking what a customer said or did, regardless of how hateful they are.
Great American Cookie Company you FAILED on this one……
Thankfully my son said he would do it again in a heartbeat.
SHARE this story of you support what Zach Randolph did!