Amanda Craft was out having lunch with fellow special education teachers at a McDonald's in Noblesville, Indiana. She probably thought her outing would end much the same as many of the others, but she would have been very wrong.
As the women sat eating and talking, they started to overhear a conversation between a young man sitting at another table opposite an elderly woman. Their stark differences peaked the interests of the group so they were very curious what was going on, but it was the exchanged words that confirmed Amanda's belief that she had to do something.
In the end, she took a photo of the pair, her mind fixed on the young man who would later be identified as Eric Haralson. Just before she left the restaurant, she told him: "I hope you know, you're going to go viral."
It turned out, as a matter of fact, he did.
It was when Amanda posted the photo to facebook later that evening that she explained the entire story.
She began by divulging that the elderly woman appeared to be lonely, and that she'd approached Eric to ask if she could sit with him.
"Without hesitation, this guy said, 'of course,'" Amanda said.
She continued: "Shout out to this guy! My friends and I watched him introduce himself and shake her hand. They talked and laughed together like they were friends. They didn't know each other, and they couldn't be more different. But, today, they shared a meal together and it touched our hearts."
Many people shared Amanda's joy at Eric's actions. Before long, he and his companion – known only as "Jan" – took the internet by storm.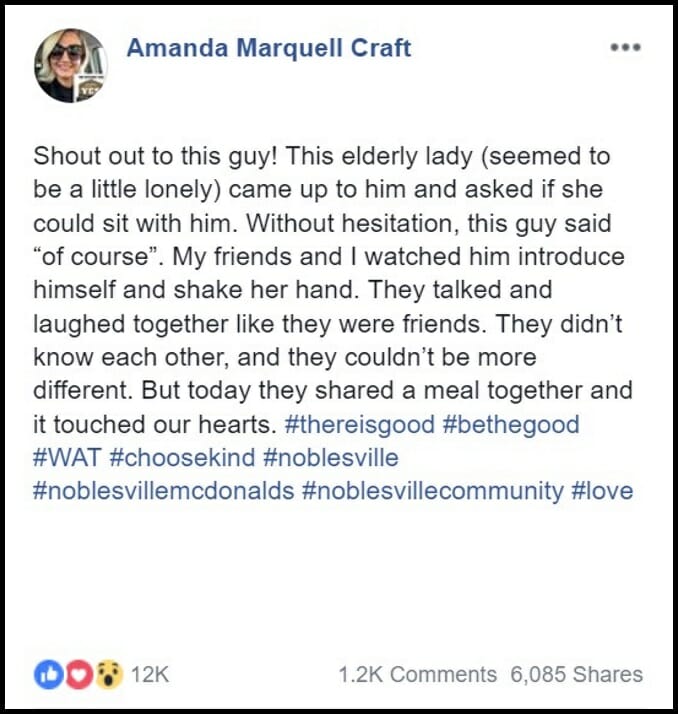 https://youtu.be/97lyxOXpAYo
Eric ended up exchanging phone numbers with his new friend Jan, and they've planned to meet up again to have more funny talks. This story just brings tears to my eyes because of how touching it is. Someone was lonely and someone else, a stranger no less, was there for them. This is truly an example we should all follow.
If this story put a smile on your face or a tear on your cheek, share it on Facebook with your friends and family.