Police officers are great men and women who put their lives on the line every day in order to keep their communities safe. These brave cops amaze us, and it is even more heartwarming to see them go above and beyond the call of duty to help others in need. One well deserving family got to experience the kindness of a Boston cop first hand after he offered to do something amazing for them.
Kori Malenfant is a 19-year-old who has already been through so much in her short life. Kori was in the middle of a health battle and needed brain surgery to correct a Chiari malformation, a painful condition in which brain tissue extends into the spinal cord. Thankfully, her surgery was a success! Kori and her parents had traveled to Boston from Maine for an important procedure and they were on their way back home when they became stranded. The family was trying to take the train but severe winter weather was causing some major delays at the station. They were forced to wait over two hours for the next train to Maine, and they were stuck in the freezing train station with nowhere to put their luggage. There was also no comfortable place for the recovering Kori to sit.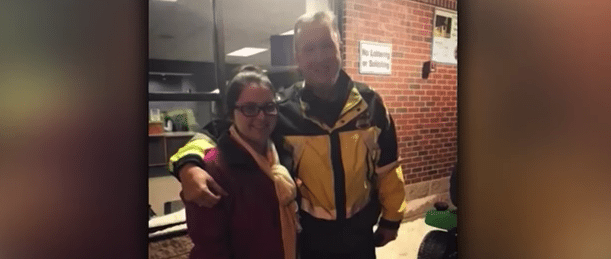 Luckily, someone stepped in and helped this family out in their time of need! Kori had asked a pair of police officers for help, and the officers assured her that they would ask their captain to see what could be done. Shortly after that, Boston Police Captain Kelley McCormick arrived at the station and told the family to follow him. They all went over to his police SUV where the captain then piled all of their luggage into his trunk before informing them that they were going on a little ride.
At first, Kori and her parents thought that the kind officer was just going to be driving them around so they would have a warm place to sit as they waited for their train ride. But, as the drive got longer and longer, the family started getting curious and asking questions. "Mom asked where we were going, and he laughed and said he was kidnapping us and that it was perfectly legal!" Kori recalled. But, the farther they drove, the more they all began to realize that the Captain was actually driving them all the way back to Maine! Learn more about their story in the video below:
[Source/Little Things]
Share this story to inspire your friends with this kind officer's actions!