JennaJoy Ingraham Washington says she's so thankful that her 19-month-old son is alive after a "horrific" ordeal sent the boy to the emergency room.
It was a regular day at the family's Spokane, WA home last week when JennaJoy's husband, Casey Ingraham, went to take a quick shower. Unbeknownst to Casey, his young son, Graysen Ingraham, had followed him into the restroom where there was bottle of baby oil sitting on the counter.
"When Casey was taking a shower he heard Graysen cough," JennaJoy, 30, recalls, noting that the bottle cap was likely loose and Graysen must have crawled onto the counter.
"That's when he looked out and saw Graysen putting the baby oil bottle back on the counter and making a yucky face."
Casey and JennaJoy assumed the child had tasted a "little bit" of the baby oil, but did not think it was anything to be too deeply concerned about. However, the parents knew something was wrong when they saw their usually active son quietly sitting on the couch, not eating his food.
"I came out from the kitchen and he hadn't moved, so I went to talk to him. But he wasn't responding to us at all," JennaJoy says. "He slid down the couch and curled up in a ball on the floor, that was really strange. He was lethargic. I picked him up and he was really dead weight and his eyes were closing in slow, awkward blinks."
She called a nurse right away and told her what happened. The nurse advised JennaJoy to call the poison control center, then the officials urged the parents to take Graysen to the ER.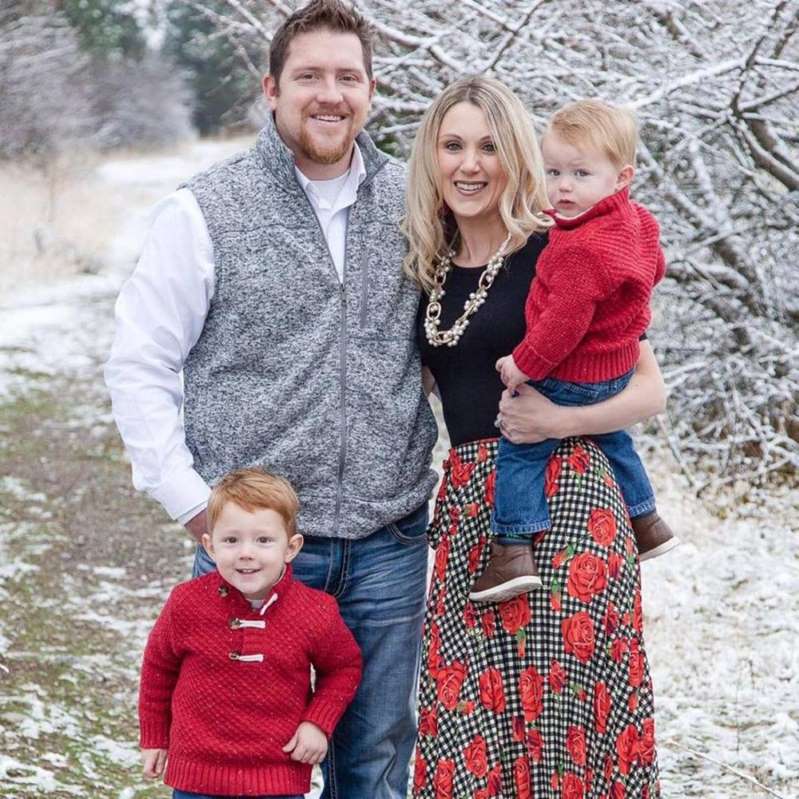 "I was horrifically scared. I was confused," she says. "I started to panic because I didn't realize [baby oil] was such poison. We put it on our kids, it's specifically made for children."
Casey rushed Graysen to the hospital while JennaJoy stayed home with their 3-year-old son, Bryten. Casey and Graysen were at the hospital for many hours and the parents soon learned that Graysen sipping on the baby oil was more dangerous than they thought.
"Doctors said it was the equivalent of you or I drinking gasoline. It could have gotten into his lungs and if it had gotten into his lungs we could have had real problems," JennaJoy says, adding that X-rays on his lungs came back okay. "It wasn't if he ingested it that was the problem, but more if he inhaled it."
Graysen was released from the hospital and doctors instructed the couple to carefully monitor the toddler for further symptoms over the next day.
"I freaked out every time we put him down for a nap, not sure whether he'd wake up," the mom of two admits. "We just watched him very carefully. Thank God, it seemed like everything was okay."
JennaJoy wrote about the incident in a Facebook post, warning other parents of "how dangerous an old nursery staple could be."
According to the National Capital Poison Center, baby oil is a hydrocarbon — just like gasoline, motor oil, hair oil, lighter fluid and more — and can be fatal if they manage to get into a person's lungs.
"Poison Control often receives calls about toddlers who drank baby oil or another type of hydrocarbon," according to the center.
"Coughing, choking and fever are common signs of hydrocarbon aspiration. Lung irritation and pneumonia, even death, can result. Don't put these products down and turn your back, even for a second. It takes only a second for a child to grab the bottle and take a drink."
JennaJoy says she threw all of her family's baby oil in the trash and is determined to be more aware of the seemingly harmless dangers in their home.
"Today I feel crazy anxious but extremely lucky as I cuddle my tiny guy and obsessively listen for any changes in his breathing," she stated in her Facebook post. "I also really feel the need to spread the word of how dangerous that little bottle all new Mommies get at their baby shower or have next to the bath or changing table actually can be."