Babies are such blessings from God, but many times the birth process can be less than ideal. When a mother is set to give birth, there is almost always something that doesn't go exactly as planned. Most of the time just a few minor things are off track, but other times the entire scenario is completely out of control! Recently, a mother of five from Kansas delivered her sixth child in the hallway that was just inside of the emergency room entrance at her local hospital. And, to make things even crazier, it was all captured in stunning images by her birth photographer!
The mother, Jes Hogan, began experiencing contractions on July 18, 2017. She and her husband, Travis, drove to their local hospital in Manhattan, Kansas, all excited and ready to welcome their sixth child into the world. Hogan spent the next several hours laboring in a tub, bouncing on a ball, and walking through the hospital's hallways. It seemed that the birth was still a while away, so the couple decided to head home to encourage Jes' contractions and continue with their original plan of an intervention-free birth. Jes spent the next few days walking around her neighborhood pool and doing small things around the house as she grew anxious about when the "real thing" might finally come. "The pain wasn't troubling me too badly," Jes recalled in a blog post. "I kept telling myself I would just 'know' if this was the real thing."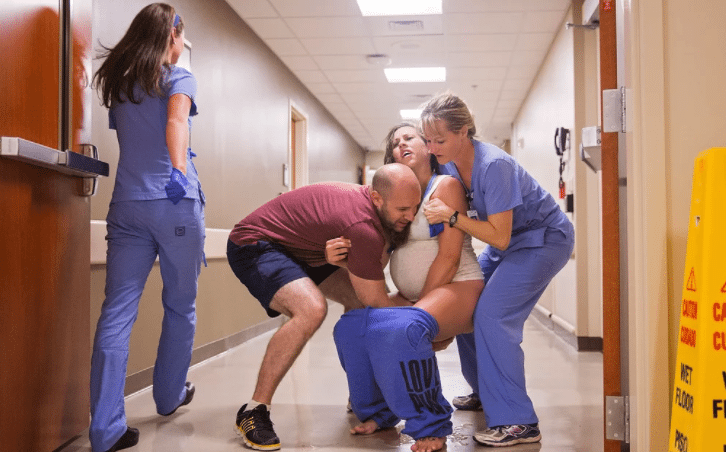 Finally, after spending time at home just waiting for the baby to come, she felt more contractions and her water broke. "About [an] hour later, I woke to a strange, long contraction," she said. "It wasn't incredibly painful, but it caused me enough discomfort that I felt around in the dark for my husband and said 'Travis, I think this is it.' "
The couple then packed up all their things and headed to the emergency room. As Travis was driving, the expectant mother made two phone calls: one to the hospital, and one to their birth photographer, Tammy Karin, of Little Leapling Photography. "After listening to her work through a couple contractions over the phone, I knew this was going to be exciting," Karin said. "I had no doubt that I'd beat her to the hospital, but I wasn't sure she wouldn't already be holding her baby!"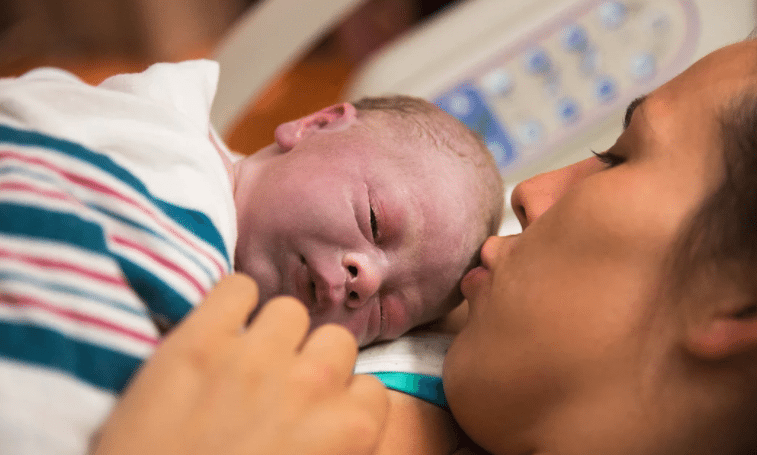 Once the couple finally made it to the hospital, Travis ran to the ER to get help as Jes made her way out of the car, but to her surprise, Karin showed up just in time to help her through the hospital doors. As they made their way inside, Jes was ready to give birth. Jes stood just inside the emergency room entrance and she could feel the baby boy's head already coming out. "I then started to take my pants off because I could feel my body pushing the baby's head out. I reached down and could feel his head crowning with my hand," Jes wrote in the post. "I looked at my husband and said, 'Travis catch him!' Without any hesitation, he did just that as I felt my body involuntarily pushing his head the rest of the way out."
At 3:38 a.m., Maxwell was born, and Karin was able to capture it all in some incredibly stunning pictures! "People seem shocked that I was able to get these dramatic delivery pictures, but this is what Jes hired me to do. As a professional birth photographer, it is my job to be there," Karin said. "I was on call, I was in contact with her and I was prepared. I would have been horribly upset with myself if I missed Max's big welcome despite how quickly things progressed!" Jes also said that this birth was so much crazier than she could have ever anticipated. "It was my craziest birth, but also, the most perfect," Jes wrote. "It was not at all what I had planned, but it ended without any intervention, with a healthy baby, and amazing support people by our sides. It was beautiful and I'll forever love every memory of it."
[Source/People]
Share this story with your friends and see what they think about this crazy birth story!