It was just a normal afternoon like any other in Woodbridge, Virginia. A little 10-year-old girl was outside walking her dog like she had countless times before in the neighborhood.
Suddenly a large man approached her and grabbed her by her arm roughly. According to the police, the man tried to kidnap the little girl. The dog immediately bit the attacker, which was enough for him to let go of the girl and run away.
The alleged kidnapper then fled from the residential area and the police are still looking for the suspect, according to The Prince William County Police Department.
The Prince William County Police Department reported the incident on their Facebook:
"*INCIDENT: Attempted Abduction | Woodbridge;
At approximately 3:50pm, the victim, a 10-year-old girl, was reportedly walking her dog in the 1800 block of Heather Glenn Ct in Woodbridge when an unknown man approached her and grabbed her arm. During the encounter, the victim's dog bit the suspect who then released her and fled on foot. A police K-9 checked the area. The suspect was not located. The victim was not injured. The investigation continues.
Suspect Lookout:
Hispanic male, unknown age, 5'3″, 145lbs with a thin build, short brown hair and a goatee. Last seen wearing a white striped shirt and light colored long pants."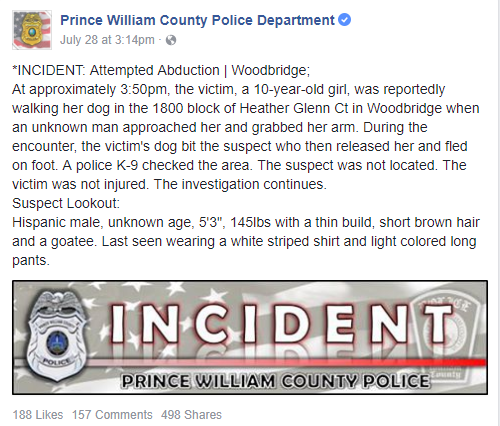 The post has since been shared almost 500 times, with internet users heaping praise on the heroic dog, who may have saved the girl's life.
Unfortunately, it doesn't sound like authorities were ever able to find the attempted kidnapper. They searched the neighborhood with a K-9 unit, but to no avail.