An Iowa businessman went out of his way to reiterate that "beggars can't be choosers."
Michael Wooldridge posted a photo of his Uncle Mike standing next to a pair of beggars outside of a Taco Bell. In the picture, Mike is seen holding a sign that reads: "Offered these guys a job. They said no. Don't give Money." Adjacent to Mike are two teenagers, one holding a sign that says "broke and hungry."
According to Wooldridge, his uncle, a local businessman, was busy with work and in need of some assistance. He offered the two young men the position, but they declined. After they left, Mike reportedly followed them to their next location and set up shop with his bright yellow sign.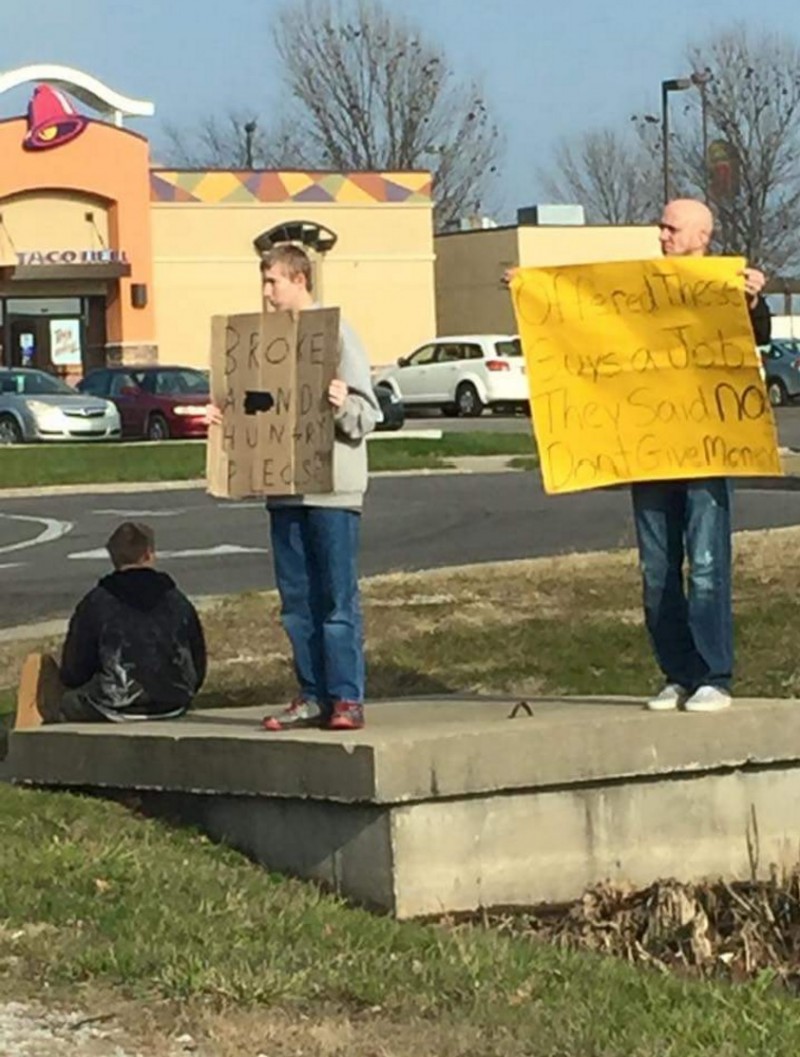 The photo quickly went viral. Readers were in full support of Mike's actions. "Good job for this guy calling out these guys," one comment read. "He was right to make his own sign," another reader said.
Michael Wooldridge uncle Mike Pothoff, says two panhandlers rejected his job offer and instead continued begging for money. So he created a sign of his own and stood next to them, attempting to show them up and urging people not to contribute.
"I said, 'You're hired,' and they said, 'we're not from around here.' I said, 'Well, you're here,' and then they just smirked and turned around," Pothoff told ABC affiliate WQAD-TV.
Pothoff later saw the men panhandling again, begging for money at a Muscatine shopping center.
So he wrote on his yellow poster, "offered these guys a job, they said no, don't give money" — and stood next to the panhandlers, promoting his own cause.
Pothoff says he doesn't have any problems with panhandlers, but it bothered him that the panhandlers scoffed at his offer. He also says the job offer still stands.
"If they're going to hold a sign out there and ask for money and say they're homeless, I can hold a sign out there and say I offered these guys a job, don't give them money," he told WQAD-TV.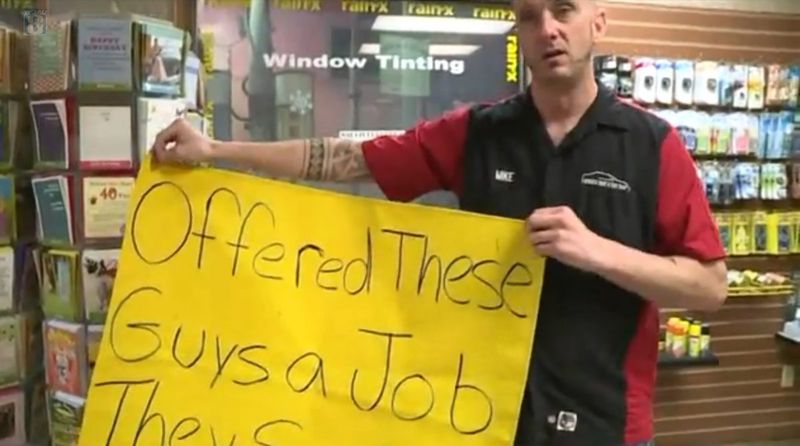 Commenters on the Reddit thread share a similar sentiment. The user who started the thread added: "Just for clarification because people keep asking. They were real jobs with real wages, one of the jobs offered they could have even earned extra take-home money in tips."
One user on Reddit claimed to be from Muscatine said the men also reportedly refused job offers to work at a local car wash.
Did Uncle Mike do the right thing?