Losing a child can be absolutely heart wrenching and it is even worse when the child gets sick and had to suffer first. We don't know why God lets these things happen, but what we do realize is that He always finds a way to comfort us. Even in our darkest hours, we see signs that let us know that God is with us and watching over us like the loving father that He is. When he was ten years old, Casey Taub chose 22 to be his jersey number. He must have really liked that number because it stayed with him all through his short life. Casey's father Jonathan describes the boy as being like a 40-year-old man trapped in the body of a 20-year-old. Casey is described as being mature beyond his years and he always enjoyed playing soccer.
At the age of fourteen, Casey started experiencing spells of dizziness which doctors later revealed to be caused by a brain tumor. Several surgeries and radiation treatments made Casey too weak to keep playing his favorite sport, but he continued to watch from the sidelines sporting his number 22 jersey. The on June 9th, 2017, Casey Taub passed away at the age of 16. Over 800 people attended the young man's funeral, but his schoolmates wanted to pay the soccer star another tribute. A soccer game was organized by the school in honor of Casey and the game started exactly at the 22nd-minute mark. Casey was definitely watching from heaven that day because exactly at 22 minutes and 22 seconds into the game, Matt LaFortezza, the senior captain, scored the first goal. Seeing the numbers 22:22 on the scoreboard brought great comfort to Casey's father.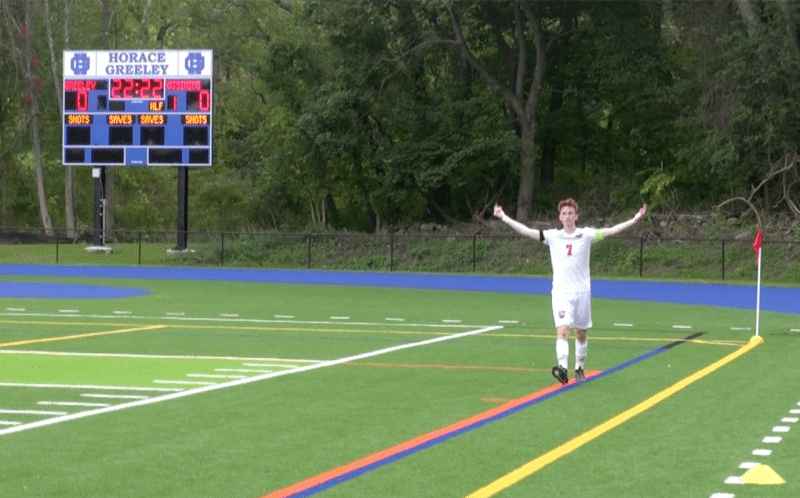 Share this story and pray that God would continue to comfort Casey's family and friends.