A simple act of kindness is not only a reflection of God's goodness on Earth, but it also has the power to transform someone's life in a monumental way. In the aftermath of a destructive storm in Nebraska, army veteran Ricky Cole hired a reputed roofing company to fix the damaged roof of his home. The company charged the Cole couple an upfront fee of $9000 and carried out the repairs over the next couple of days. Unfortunately, when another massive storm hit the region, the 'repairs' were left undone with massive chunks of the roof blowing away, nails becoming exposed and shingles being torn right off of the home. Apparently, the repair work carried out by the company had not been up to the mark and the couple realized that they were being scammed by the roofers.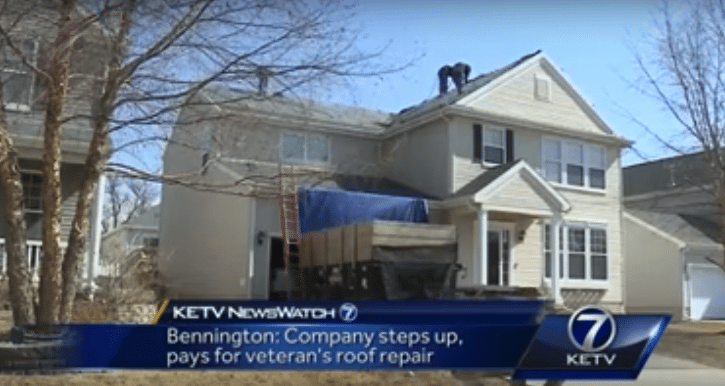 Disheartened by the situation, Cole consulted another roofing company to have his damaged roof inspected. However, the owner of the D&M Roofing company told him that the roof had been damaged beyond repair. Eric Oberembt said, "I didn't feel comfortable doing a repair on it because I didn't know how it was going to perform." Seeing that the couple had been duped, Eric offered to carry out the repairs free of charge! He said, "It makes me sad to see people, good people, get taken advantage of. We're donating all the labor to kind of put it together in one package so they can get a new roof at no cost to them."
The couple was genuinely moved by Eric's unexpected act of kindness, who was in turn simply trying to express his gratitude for this ex-military men's service to the society. Cole remarked, "It's hard … emotions can't explain just the gratitude I have for Eric for doing that. It's a true blessing!"
Share this story to inspire your friends with what this roofing company did!