When driving, it's very important to keep your eyes on the road. But sometimes, you notice something that doesn't look just right and your eyes can't help but focus on it. Two dogs who were thrown from a moving vehicle thankfully survived the ordeal when a passing trucker noticed the incident unfolding before his eyes. The dogs were said to have been thrown out of a moving car along a stretch of New York State Interstate 81 near Whitney Point. The New York State Police have asked for the public's help in identifying the people responsible for this heinous act.
While the trucker rescued the animals and they are now recovering, one of the dogs suffered such massive injuries that a mangled front leg had to be amputated.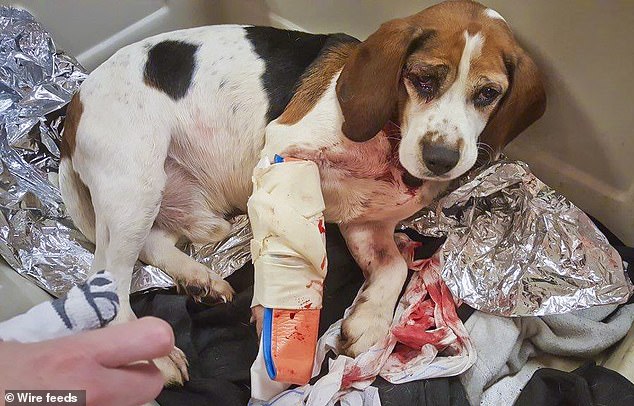 Amberly Ondria, shelter manager for the Broome County Humane Society, stated: "These animals have been through a lot, and people need to understand that this is not OK. This is not something that should be done."
The trucker saw the dogs being thrown from a rusty dark blue Dodge Durango driving north towards Cortland, New York.
According to state police, the trucker stopped his vehicle to help out the animals — as he picked up the injured dog, the other pooch, who suffered a few abrasions, followed closely behind.
Police spokeswoman Trooper Aga Dembinska told WBNG12 News: "[Adam] seemed to be very angry that somebody could do such a despicable act to dogs."
When troopers arrived on the scene, they bandaged and splinted the injured dog's leg on the side of the highway, keeping the animals warm in a blanket and the trucker's sweatshirt. The dogs were later named Trooper and Adam, after the trucker.
According to Amberly, Trooper is believed to be 6 to 8 years old and Adam is roughly a year old.
The humane society said that "Trooper suffered a compound fracture of his distal radius and ulna on the front right leg that was amputated and a hairline fracture of the ulna on the left front leg, as well as broken ribs and contusions to his lungs and shoulder," according to reports.
Amberly added that Trooper "has quite the road to recovery ahead of him." The Humane Society posted an update on their Facebook page, stating that Trooper "was very alert and mobile this evening. He was moving on 3 legs! Although a bit unsteady, and only moving a short distance, it is very obvious that he is determined."
They also added: "Thank you to EVERYONE for your prayers, kind words, generous donations and sharing this story! It is because of all of you that we can get Trooper and Adam the level and quality of care that they need and deserve. Words cannot describe how tremendous people are and how everyone is rallying for these dogs!"
They continued: "By sharing this story we are hopeful that someone can provide information to help get some answers about this situation, so please continue to spread the word."
One commenter on the Humane Society's Facebook page said: "I sincerely hope the dash cam of Adam's truck can bring justice for these poor babies. And Adam has expressed his wishes of adopting both of them. He has already proven he has a big heart and these pups would have an amazing life with him. Please let that happen too."