We really have no words for this. What an incredible story.
Reuters journalist Philippe Wojazer has captured this sad yet stunning picture of the cross still standing tall in the remains of the Notre-Dame Cathedral. As you may know, a devastating fire broke out at the cathedral earlier this week.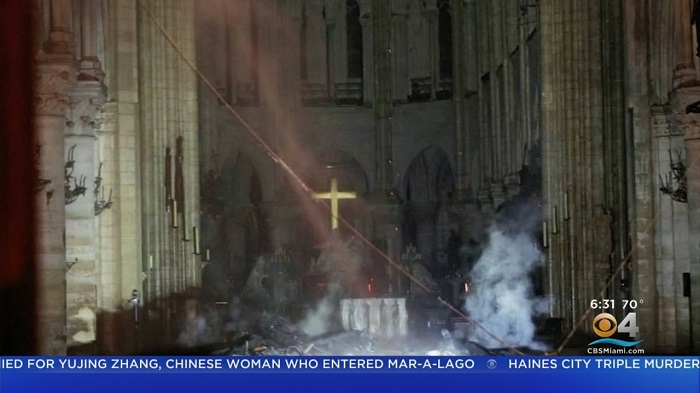 When the building was finally safe to enter and the rubble was cleared, this incredible image was taken.
The fire earlier this week lasted for many hours and devastated the structure, both inside and out. While the main structure was salvaged, firefighters were not able to save the iconic central spire, which had been added on during a restoration construction in the 19th century.
Two policemen and a firefighter in Paris were slightly injured while battling the fire, according to Paris Fire Brigade. Thankfully, no lives were lost during this terrible event.
In addition to no one being severely harmed during the terrible fire, we also know that the cathedral's beautiful bell towers, the crown of thorns and one of the cathedral's rose windows remained intact. There were other iconic pieces of art that were also saved, according to police.
The French government is telling reporters, "Nothing suggests it was an intentional act."
Firefighters are currently working to make sure there is no additional risk of fire and that the structure is stable.
Donors including Apple and French billionaires have already pledged hundreds of millions to go towards rebuilding efforts.
As we start Holy Week, we should view this as a sign that Jesus is with us.
Praying for a quick restoration of this beautiful landmark!