Stephen Curry is a name that almost everyone knows. This famous and talented basketball player is now a guard for the Golden State Warriors and he has been an inspiration for many young fans. Curry has not only proved to be a champ on the court but in real life as well when he consoled an opponent's nephew before one of his recent games.
Before his team's big win on Monday night over the Mavericks, Curry took the time to step away from his pregame routine and console a boy named Brayden Harris. Brayden is actually the nephew of Mavericks guard Devin Harris. Brayden's father, who was Bruce Harris, was tragically killed in a car accident just last week and their family is going through immense grieving at this time.
Curry knew that this young boy needed encouragement, so he knew he should be the one to go over and console him. "It's obviously sometimes hard to find the right words to say in that situation because it's obviously such a tough blow to the family," Curry said. "At that age, I can't imagine what he's going through. The best thing I can say is to lean on his family to give him that strength to get through this tough time. Nobody can tell him how to feel. He just needs to allow himself to get through the best he can with his family at his side and lean on them for strength, support, and love. Hopefully, they'll be there for him. That's the best I can tell him."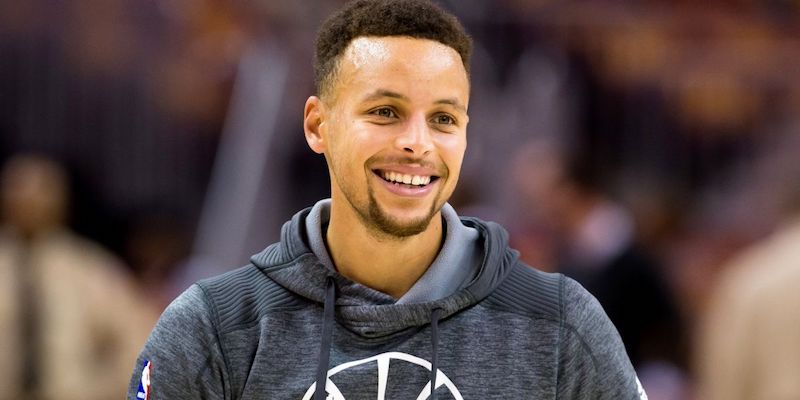 Curry's meeting with young Brayden was actually organized by one of his teammates and a close friend of Devin Harris', Shaun Livingston. Also, Curry's younger brother is Mavericks guard Seth Curry, and he also helped make this moment happen. Not only did he encourage Brayden, but  Curry also wanted to autograph a few items for him. Even though his uncle plays for another team, Brayden is a huge fan of Curry's and was thankful to meet him. Although this young fan was going through so much at this point, meeting one of his heroes certainly helped lift his spirits a little bit. As for Curry, he knew that this gesture was nice, but that it wouldn't be a magical fix that would end all of Brayden's grieving.
"Obviously, him being here and being a big fan of me and our team, you try to lift his spirits the best you can," Curry said. "Like I said, there's no right thing to say in that situation. You just let him know that we're thinking about him and praying for him."
Watch the sweet interaction in the video below:
Facts You Never Knew About Steph Curry
Steph Curry is full of surprises, here are a few interesting facts about the talented athlete via USA Today:
His real name is Wardell Stephen Curry II. In a Warriors World Q & A, he says that he was named after his father, and even though he is widely known as "Stephen" or "Steph," his close friends still refer to him by his birth name.
He was born in Akron, Ohio. Not only were Curry and LeBron James born in the same city, but they were born in the same hospital, according to NBC Bay Area.
His parents are both former athletes. His dad, Dell, played in 16 NBA seasons for five different teams. His mom, Sonya, was a college volleyball standout. Guess it runs in the family.
His sister, Sydel, plays volleyball at Elon University. Yeah, it runs in the family.
He is a gifted golfer. In addition to his heroics on the basketball court, Curry is an avid golfer and that he shot two-under par at Pebble Beach last summer, according to the Golf Digest. He also recently hit the links with President Obama at Martha's Vineyard.
He holds the record for three-pointers in a season in both the NBA and NCAA. That's right … The NBA's deadliest shooter was re-writing the record books long ago, with 162 makes during his sophomore season at Davidson, according to NBA.com.
He is extremely active in charity work. In addition to winning the 2013-14 Kia Community Assist Award, he has worked extensively in the fight against malaria, including his help to distribute 38,000 bed nets to families at the Nyarugusu refugee camp in Tanzania, according to NBA.com
His mother fines him each time he commits a certain amount of turnovers. Yes, he's 28-years-old and the reigning NBA MVP, but Curry has a verbal contract with his mom. She fines him $100 for each turnover he commits after his third each game. Meaning, if he commits four turnovers, he owes her $100. Five turnovers= $200, six turnovers=$300, etc.
He started playing basketball when he was about five years old.  Twenty-three years later, who would have thought he would be leading the dawn of a new era.
If he were to choose an actor to play him in a movie, it would be Denzel Washington. It's tough to picture the 61-year-old Denzel portraying Curry, but anything's possible, right?
Snakes are his biggest fear.  Don't worry Steph, they're more afraid of you than you are of them.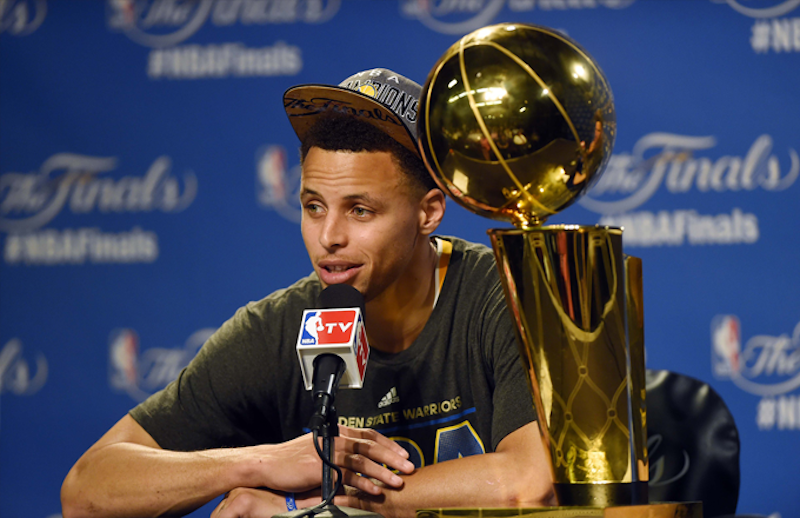 He has two daughters. His older daughter, Riley, became an instant celebrity when she hijacked his press conferences last season. His second daughter, Ryan, was born in 2015, and she has some big shoes to fill.
Muggsy Bogues was his favorite NBA player growing up. He told the Big Lead that he admired Bogues — the NBA's shortest player of all-time and his father's former teammate — as a kid.
He once found a wallet with $160 and returned it. He described the incident to the Big Lead:
"It was at the beginning of my sophomore year and I found a wallet in the dining hall. We have this campus-wide email that goes out every morning – Davidson is a small community, people look out for each other, you know? – and I put it in there. But my email had my first name, 'Wardell,' on it, so I don't think the kid knew it was me until he showed up at my door. He was like, 'you lit up Maryland in the NCAA tournament' and then asked for my autograph. Pretty funny."
[Source/USA Today]
Share this story with your friends who are basketball fans and let them know about Steph Curry's kind gesture!