Death is an inevitable end that comes to us all. But despite being a certain reality, no one ever wants to see a loved one pass away. The feeling of leaving one's beloved behind is definitely not easy. For a dying parent, missing their kid's milestone will add to the grief and sadness of passing away.
For dying mom Stephanie Northcott, her last wish was to see her son's graduation. Stephanie has Lynch syndrome, a genetic disorder which has been affiliated with different types of cancer. The mother of two was diagnosed with an aggressive form of cancer in 2015. There wasn't anything doctors could do to save her.
The family unfortunately had no choice but to watch her slip away painfully. Her daughter had also passed away from the same exact disease some years back. Stephanie knew her time was running out, but she wanted more than anything to witness her son's graduation.
But there were major problems with that. Dalton, her son, went to school at Hall High School in Knoxville. There was no way the sickly woman would be able to make the 200-mile journey from Memphis Baptist East Hospital where she was being cared for. It seemed she wouldn't be getting to see her son graduate after all.
But Dalton, with the help of his school principal and his classmates, decided to do something very special. They decided to bring the graduation to the hospital since there was no way she would make it otherwise. They informed with the hospital staff and worked together with friends and family to plan a special graduation for Dalton in the hospital chapel.
Dalton and 20 of his supportive friends set out on the long trip from Memphis the night before the ceremony was to take place.  They all planned to have their graduation right in front of Stephanie and pay their respects one last time. The hall was packed full with students, football players and staff of the school as well as hospital staff and family members who all showed up to honor Stephanie on such a special day.
The principal of Dalton school, Suzanne Keef, led the ceremony , which was live streamed on Facebook. The event was just like a normal graduation, only this was special and was being held in honor of a special woman. Dalton walked down the aisle in his graduation cap and gown as the peaceful music played. The school principal addressed him and the others as her voice shook with emotion.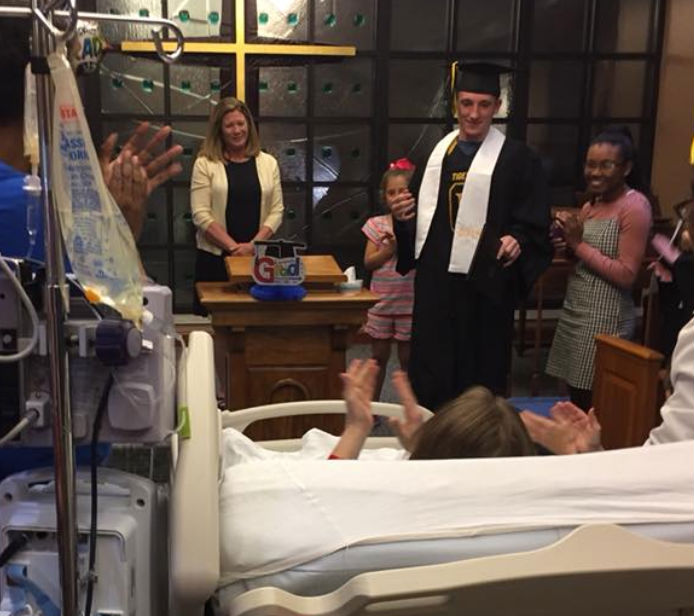 "As you can see, this is a very special place, and this is a very special man. So by the authority given to me by the department of education and the state of Tennessee, I pronounce Dalton Christopher Jackson a graduate of the class of 2018." She said as cheers erupted across the room
Stephanie was glad that she finally got her last wish. "I'm so happy," she said. it was an emotional goodbye for mother and son as she told him "You can do anything you put your mind to. Don't ever forget that."
Stephanie will be missed greatly by her family.