Odin the dog was sadly born into captivity.
He was kept outdoors in chains and in deplorable conditions by a pair of breeders who horribly neglected several of their dogs.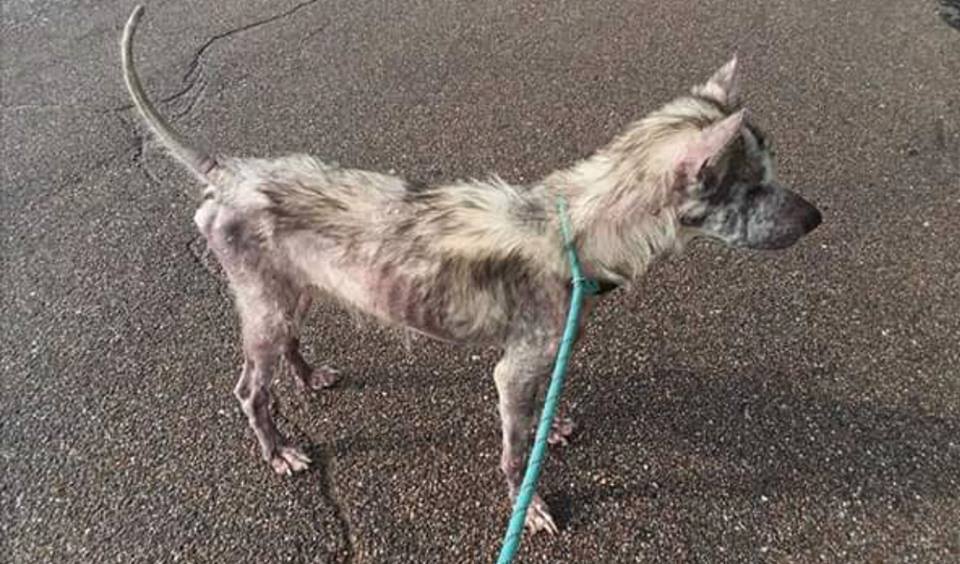 "Odin was involved in a very severe neglect and abuse case. Someone concerned called in about his condition and several other dogs condition at a property. The scene was like something out of a nightmare. Odin was clinging to life, severely underweight, with several skin infections, mange, intestinal worms, heartworms, and extremely broken teeth. He was hardly recognizable as a dog, much less a majestic malamute," Odin the Rescue Malamute Funds Facebook page says.
Odin, who is actually a fluffy Alaskan malamute, was totally unrecognizable when he was rescued.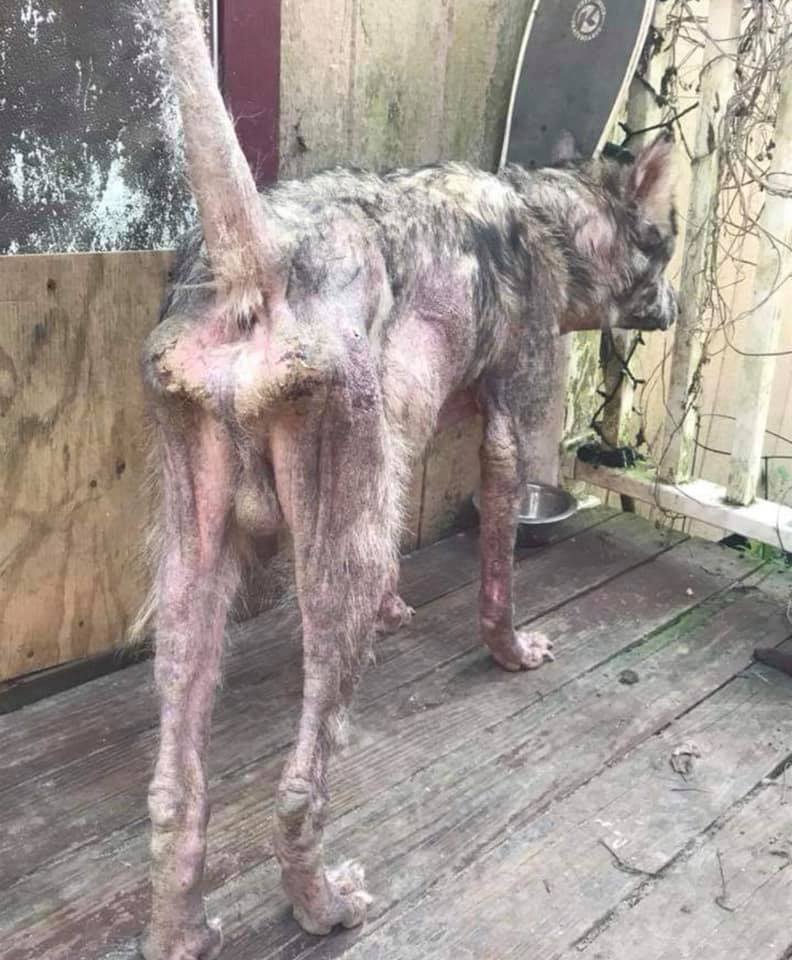 The Southern Pines Animal Shelter and Southern Cross Animal Rescue of Mississippi, who rescued Odin, knew that the dog needed to be rushed to the vet and given special care in a loving foster home.
Odin was placed with a woman named Sydney Schelkopf who was shocked by the dog's gaunt appearance.
"Poor Odin looked like he was taken straight out from a nightmare," foster mom Schelkopf told The Dodo. "He was emaciated, almost completely hairless, covered in wounds, with cracked and broken teeth, and incredibly weak. He had a putrid smell to him from his horrible skin infections. Basically whatever could be wrong, was with this poor guy!"
Odin's internal wounds were just as bad.
He was terrified by his newfound freedom to walk around and be off of his chain.
As you might expect, this broke Schelkopf's heart knowing that Odin was never allowed to, well, be a dog.
"He sniffed around the whole house and kept looking back at me like, 'What's the catch?' For weeks after I got him, he would just lay in a spot. I couldn't get him to play with toys or act like a 'normal dog,'" Schelkopf said.
Odin would need a lot of medical attention and time to recover, but eventually he made it.
Odin's transformation is absolutely unbelievable. He looks completely unrecognizable and like a completely different dog.
"He is currently undergoing heartworm treatment which has been a huge battle," Schelkopf said. "We have our good days and our bad days. Once all our heartworm treatment is done, we are going to have some corrective surgery on his teeth. Unfortunately, a lot of them are in bad shape, and we are going to do everything we can to get them as best as we can!"