Mothers know that although it's certainly a rewarding process, caring for babies is never really all that easy. Even the most upbeat of Energizer bunny-like moms have to take a break, even if it sometimes gets in the way of doing what you're getting paid to do. Melody Jett Blackwell was having one such quiet moment to herself when her boss caught her lounging around in an office chair as she held her newborn on her belly.
Melody was fortunate enough to be given permission to work from home after she took maternity leave to have her baby, but at some point she knew she'd have to come back into the office to physically do her job. Although she was excited that her boss let her bring baby Nora-Jo with her, Melody's mood changed after her boss made a very public comment about babies in the workplace.
Some moms make motherhood look like a walk in the park, or at least that's what Melody's boss seems to think. After taking a picture of Melody in the middle of the day at the office, her boss thought the moment was too special not to share. After it was uploaded onto the Maryland Farms Chiropractic Facebook page, the two women never thought it would attract as much attention as it did. They thought it was just a special pic.
"Workin' mamas. She makes it look easy. It helps that Baby Nora-Jo is so sweet and content just being with and near her mama. Would y'all mind sharing this? We need more small and large businesses to see this is doable and should be allowed more often! The newborn months are so short. #WorkinMamas post a pic of you and your little ones while you work!"
Melody was still permitted to work from home, but some days the chiropractic office that she works at in Brentwood, Tennessee needs some extra hands. Since she's still breastfeeding, her employer has absolutely no problem letting mom take as many baby breaks as she needs.
As the picture began to capture more attention, both Melody and her boss realized it was actually a good starter conversation piece about babies in the work place. Melody said:
"I know not every office and work environment is conducive for children and babies, but I think more places can be more flexible than they are currently."
Giving moms the flexibility to bring their children into the office can also help tremendously with the costs of daycare.
"I think many families find it almost makes more financial sense for one parent to stay home, rather than go to work just to have most or all of their checks pay for day care."
As Melody mentions, single moms don't always have the option to be a stay-at-home mom. Daycare is the new societal norm when it comes to raising a child.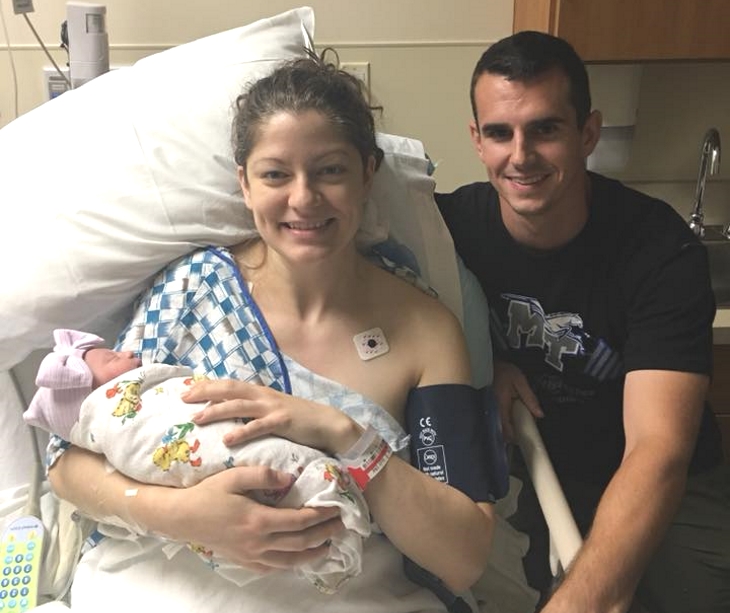 Melody sincerely hopes that the photo of her taking care of Nora-Jo in the office will make other employers see the bigger picture.
"Depending on the work place, moms can bring their children to work and be productive. I hope that more moms in the future will get the opportunity that I have-to get to spend every day with my baby but also contribute to the family income."
Melody aces the job done as both a mom and employee, and it just goes to show that nursing a baby in the office is totally possible if the right work environment and supportive network is present.