A young couple in Michigan claim that their home is possibly haunted by a malicious evil spirt/demon after their daughter appeared to have three deep "purple scratches" on her face. They also believe they have captured the supernatural creature on their nanny cam.
Now they are ready to move out. Wouldn't you?
Heather and Josh set up a camera after they discovered the purple scratches on their one-year-old named Lily.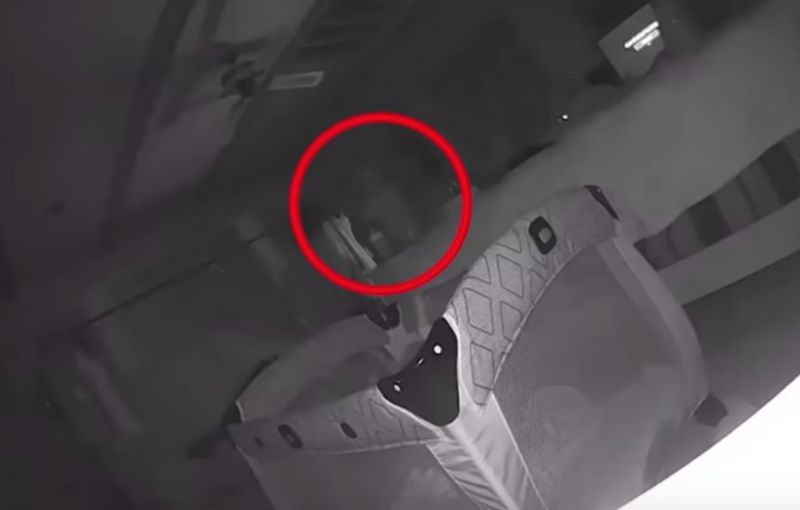 After watching the footage, the couple believes they saw a male type figure walk quickly past Lily's crib, as the baby pops up and watches the figure move through the room, before the alleged spirit vanishes in midair.
According to the Daily Mail, a paranormal investigator was called in to look into their claims and they confirmed that the house was indeed haunted.
The couple currently reside in Heather's mother's guest house for the time being. According to Heather's mother, before the couple moved into the house, an elderly lady lived there who was found dead at the bottom of the stairs. After her death her "schizophrenic brother" lived in the home until his death a few years later.
"This is a spirit — I don't know what its intentions are, but at this point it's becoming physically harmful. This has made us want to leave as soon as possible. As soon as possible we're out of here," Josh told the media outlet.
Heather reports that leading up to this event the family has heard sounds of screaming, stomping, and laughing. Heather said she has been awoken by what sounds like a man shouting. Until they find their new home, the couple has decided to never leave their daughter alone in a room.
The Bible makes it clear that there are demons, or evil spirits, in the world that interfere in people's lives (Ephesians 6:11-19). Evil forces, or powers that we should not take likely.
https://youtu.be/NciAwRJm-yo
https://youtu.be/NciAwRJm-yo