Flu season has been so bad this year and we all need to take precautions to stay healthy! But, how far is too far? One man named Maurice was caught on video taking some extreme precautions in order to protect himself from getting the flu.
The video was taken by Maurice's sister, Augusta Stewart, who drove to her brother's house in order to pick up some clothes for her son. But when she arrived, Maurice found out that Augusta was battling the flu and he was not willing to take any chances!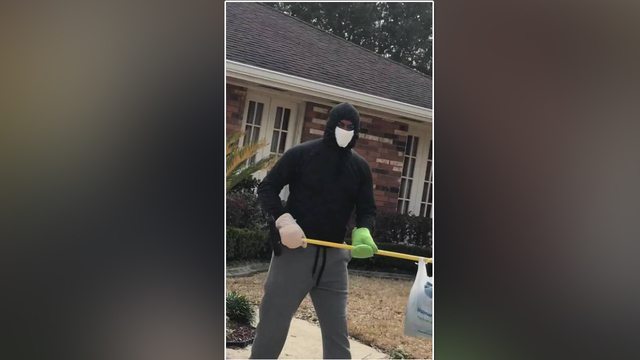 Knowing how bad the flu season had been, Maurice decided to cover himself head to toe before going outside to hand the clothes off to his sister. "Some people will always just be extra," you can hear Augusta say in the video. She keeps recording her brother as he walks toward her in this ridiculous outfit. He is completely covered in a hoodie, face mask, and what seem to be mismatched oven mitts! He looks so crazy!
To make things even crazier, Maurice is carrying a broomstick with the bag of clothes at the end so that he doesn't even have to get close to his sickly sister.  "You just always do too much!" Augusta says to him. But, Maurice doesn't care how crazy he looks, he just continues keeping his distance! Watch the crazy scene for yourself in the videos below:
[Source/Little Things]
Do you know someone who acts like this during the flu season? Share this video with them!