Preparing to have a baby is a busy, but exciting, time! There is so much that has to be done before a child is born, but what if another huge life event occurs right before the birth? John Lancaster and his wife were preparing to welcome a little girl into the world when John suddenly became ill. Initially, he believed that his illness was just a "bad cold." But, on January 17, 2018, John's "cold" was hindering his breathing so his wife, Erica, convinced him to seek medical attention.
But the doctors at the first facility he went to didn't know what was wrong with him. But, the next thing John knew, he was had woken up in another hospital and had absolutely no clue how he'd gotten there! What's even crazier was that he had no idea that his wife was due to give birth! "I remember having a cough, and then I remember going to the hospital in Elizabeth City, and then I woke up here [Sentara Heart Hospital]," John said. The doctors at the hospital finally figured out that John had a previously undiagnosed heart condition (LVNC, or left ventricular non-compaction cardiomyopathy), and that was what was affecting his lungs. And, his deteriorating condition the previous weeks had affected his memory and caused him to forget that his wife was 9 months pregnant!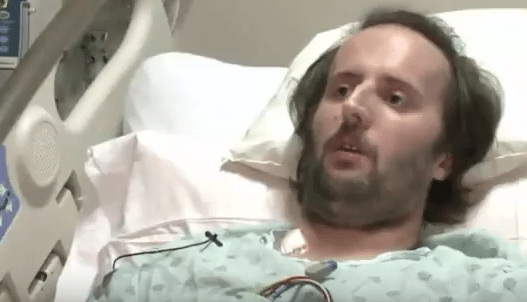 The doctors rushed to install an ECMO (extracorporeal membrane oxygenation) device in John to help his lungs to keep functioning since they could no longer work on their own. Then, for 18 days, John was in a medically induced coma. During this time Erica was heavily pregnant and preparing to have her baby, and she was still unsure of what her husband's medical condition would be at the time of the delivery. Erica gave birth on January 24, 2018, the same time that John was undergoing surgery.
"After delivering her, an hour later I made my sister wheelchair me down before his procedure," Erica said. "It was hard giving birth without him. It was not going the way it was supposed to go." John and Erica's baby girl, who they named Kimber, was born healthy, and the now-recovering dad called holding his daughter for the first time "better than any medicine in the world." Hear more about their incredible story in the video below:
https://www.youtube.com/watch?v=Aanjquwh_io
[Source/Little Things]
Share this story with your friends and see what they think about this crazy situation!