After being fined by the NFL during a Week 3 game for wearing a "Man of God" headband, a group of schoolchildren made it clear that they were supporting Demario Davis, New Orleans Saints linebacker.
Davis returned the favor on Friday.
A little background: Davis, an outspoken captain of the Christian and Saints team, ran away from the "personal messages" rule of the league and was fined about $7,000.
https://www.instagram.com/p/B29qHk8JN3m/?utm_source=ig_embed
But Davis decided to turn a dumb fine into a good thing and the attention it gained as a result.
While the fine — and the subsequent appeal of Davis — was in the headlines, he encouraged people to purchase "Man of God" and "Woman of God," headbands that cost $25 per person.
Of course, Davis wasn't going to keep the money— the proceeds would go to Jackson, Mississippi's St. Dominic Hospital.
And they were bought in droves.
That's where the students came into the mix at New Orleans' St. Louis King of France Prep. In a move that moved Davis, the students made their own "Child of God" headbands, and the linebacker was stunned.
https://www.instagram.com/p/B4VCdTfpgLZ/
"So my agent just told me that I won my appeal and won't have to pay the headband fine!!" Davis wrote on Instagram last month. "Then I see that St. Louis King France came together today to support the movement! Won't he do it! Look at all these beautiful children of God!"
Davis said to reporters that he was trying to "figure out a way to show my gratitude toward that school and those kids."
Davis seems to have found a way to show his gratitude.
On Monday, he made a surprise appearance at the students' school with a pizza party and more "Child of God" headbands, The Times-Picayune | New Orleans Advocate reported.
"Beyond blessed to have been able to surprise the students at St. Louis King of France on Monday!" Davis wrote Friday on Instagram.
"They were early supporters of the #ManOfGod headbands and I had to show my gratitude, by bringing them #ChildOfGod headbands and throwing them a pizza party! I'm encouraged by their child-like faith and boldness in being children of God. They inspire me to keep fighting the good fight!!"
In an interview last month with Fox Nation, Davis further showcased his appreciation toward the children.
"To see the kids make the paper headbands was just unbelievable," he said (three-minute mark in video). "If you're reaching the kids, you know it's real because kids — they're not thinking based on politics or anything like that, they're just thinking with what they feel."
According to Davis, more than $200,000 has been raised for the hospital thus far.
"Wow… from -$7,000 to $200,000+ only God can do that!!" he wrote on Instagram.
Terry Bradsahaw and Jesus…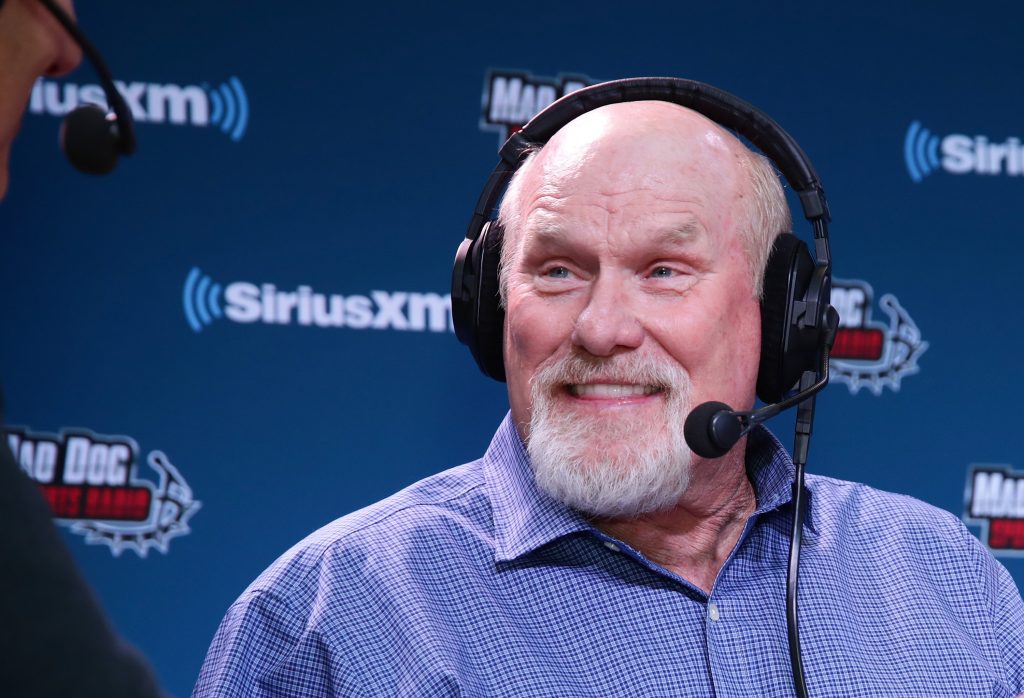 Terry Bradshaw is a former NFL star and presently a famous sports commentator. He certainly seems to be living the life and has it all. But for Terry things were not always easy. Being a small town boy from Louisiana, Terry faced ridicule for his Southern accent, even being called dumb and stupid by his media. In an interview with CBN Terry talks about how he was not used to harsh words and the treatment from his coach and everything else he was going through sent him into depression.
Terry turned to prayer and even asked God to get him out of the life he was living. It was at one point when Terry felt Jesus come into his heart and fill his life. Terry's life transformed and he felt a new sense of peace and the strength to get on with life. Terry says with full conviction that it was Jesus who changed his life.