Feeding a hungry animal and treating it with compassion is a beautiful act of generosity that will never go unnoticed in God's eyes. But what if it is a nocturnal omnivore such as a raccoon you showed kindness to and now it will not leave your doorstep in search of food and shelter? And what's worse, it comes back with an entire army of hungry raccoons in your yard waiting to be fed! Well, this is exactly what happened with this man who couldn't resist his compassion for animals and ended up providing food for a few raccoons that dropped in at his doorstep. A couple of days later, when he opened his back door, he was taken aback by a large group of over 30 raccoons that had popped up in his yard in search of food!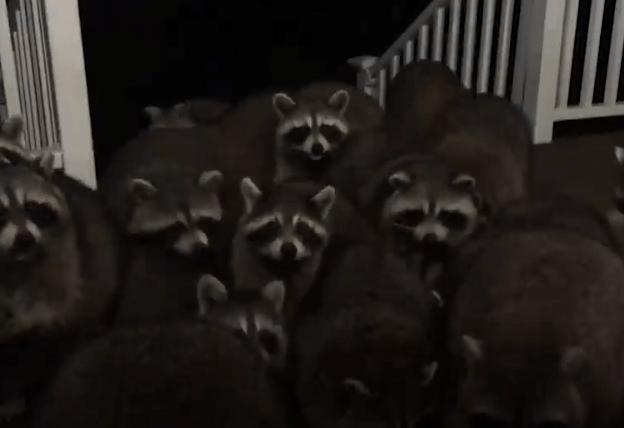 The man made a video of the entire scene in which he can be heard saying "I went to go and feed my raccoons, but you can't believe how many are out there tonight. The word is out, you gotta check this out." Driven by virtue, the man flung some dry pet food for the raccoons to feed on. While amazing to watch, the video is also a reminder of how dangerous it can be to feed wild animals and the impact it can have on the neighbors in your surrounding area! Watch the video below:
Share this story with your friends who like to feed wild animals and see what they think!