Weddings are a big milestone in our lives, they are the beginning of a new era. God loves weddings. After all, weddings are where we swear our love for another person in front of our friends, families, and God himself. A maid of honor has a big role to play in your wedding. Not only does she have very important duties to uphold, but she also has to support the bride in every way possible. The most important part of being a maid of honor, however, is that you are not in any way supposed to upstage the bride herself. But as you can clearly see from these photos taken at a wedding in Alberta, Canada, no one told Sharilyn Wester that important piece of information.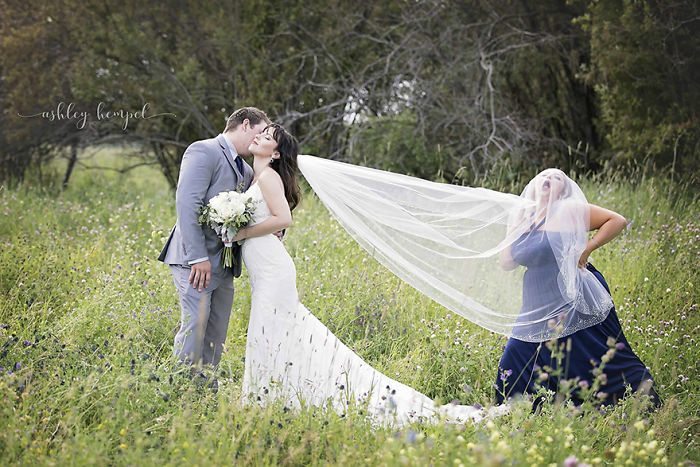 The wedding photographer, Ashley Hempel, had asked Sharilyn to assist with the veil toss portion of the couple's photo shoot. But Sharilyn decided to take her duties one step further by making her BFF Rebecca and her husband James Foster's wedding more special with some hilarious poses. Fortunately, Rebecca was in on it too. However, no one told poor James what to expect. Sharilyn later said that "The groom had no idea what we decided to do, but once we started acting goofy, he played along and was laughing." Despite the seemingly impromptu shots, the maid of honor revealed that the prank had actually been planned over the course of a few years. She explained that "It was based off a photo Rebecca saw that we both decided we had to recreate." To all future bridesmaids, if you're planning on upstaging the bride at her own wedding, just make sure that you have her permission first.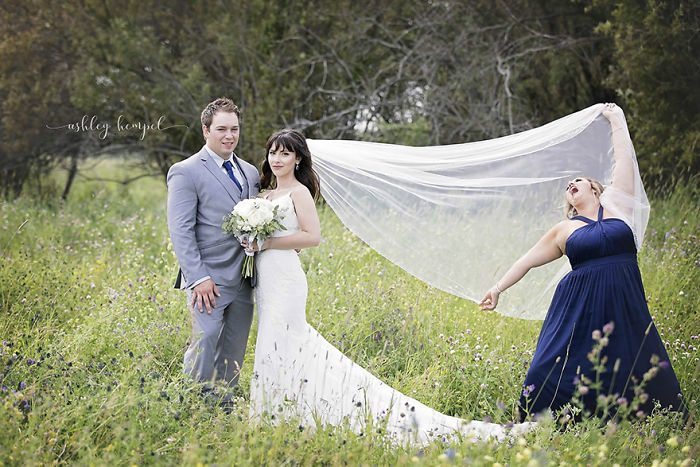 Do you know a friend who would so something like this? Share this story with them to make them laugh!