If you are on a low-carb diet then this recipe might be perfect for your 'Potato Salad' spot at your next outdoor barbecue.
Potato salad is a staple of summer season, so of course there needs to be a low carb version for all the ones on Keto and other low carb diets. In this potato salad recipe, we switch out the potatoes for cauliflower. With this low-carb trick, you can't even tell it's not potatoes! It is so easy to make that you'll be eating it at poolside in minutes.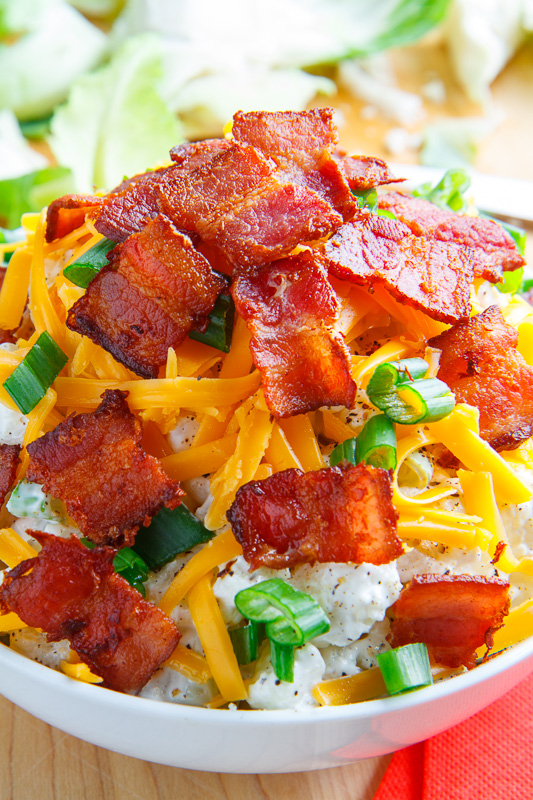 INGREDIENTS
1 large head cauliflower, cut into florets
6 slices bacon
1/2 c. sour cream
1/4 c. mayonnaise
1 tbsp. lemon juice
1/2 tsp. garlic powder
Kosher salt
Freshly ground black pepper
1 1/2 c. shredded cheddar
1/4 c. finely chopped chives
DIRECTIONS
In a large skillet, bring about ¼" water to boil. Add cauliflower, cover pan, and steam until tender, about 4 minutes.
Drain and let cool while you prep other ingredients.
In a large skillet over medium heat, cook bacon until crispy, about 3 minutes per side.
Transfer to a paper towel-lined plate to drain, then chop.
In a large bowl, whisk together sour cream, mayonnaise, lemon juice, and garlic powder.
Add cauliflower and toss gently. Season with salt and pepper, then fold in bacon, cheddar, and chives.
Serve warm or at room temperature.