A little girl's photo with a bride has taken the internet by storm. 5-year-old girl Layla Lester, who has autism, mistook for Olivia Spark for the Disney princess Cinderella. Now the internet wants to send this 'little princess' to Disney World so she can meet other Disney princesses.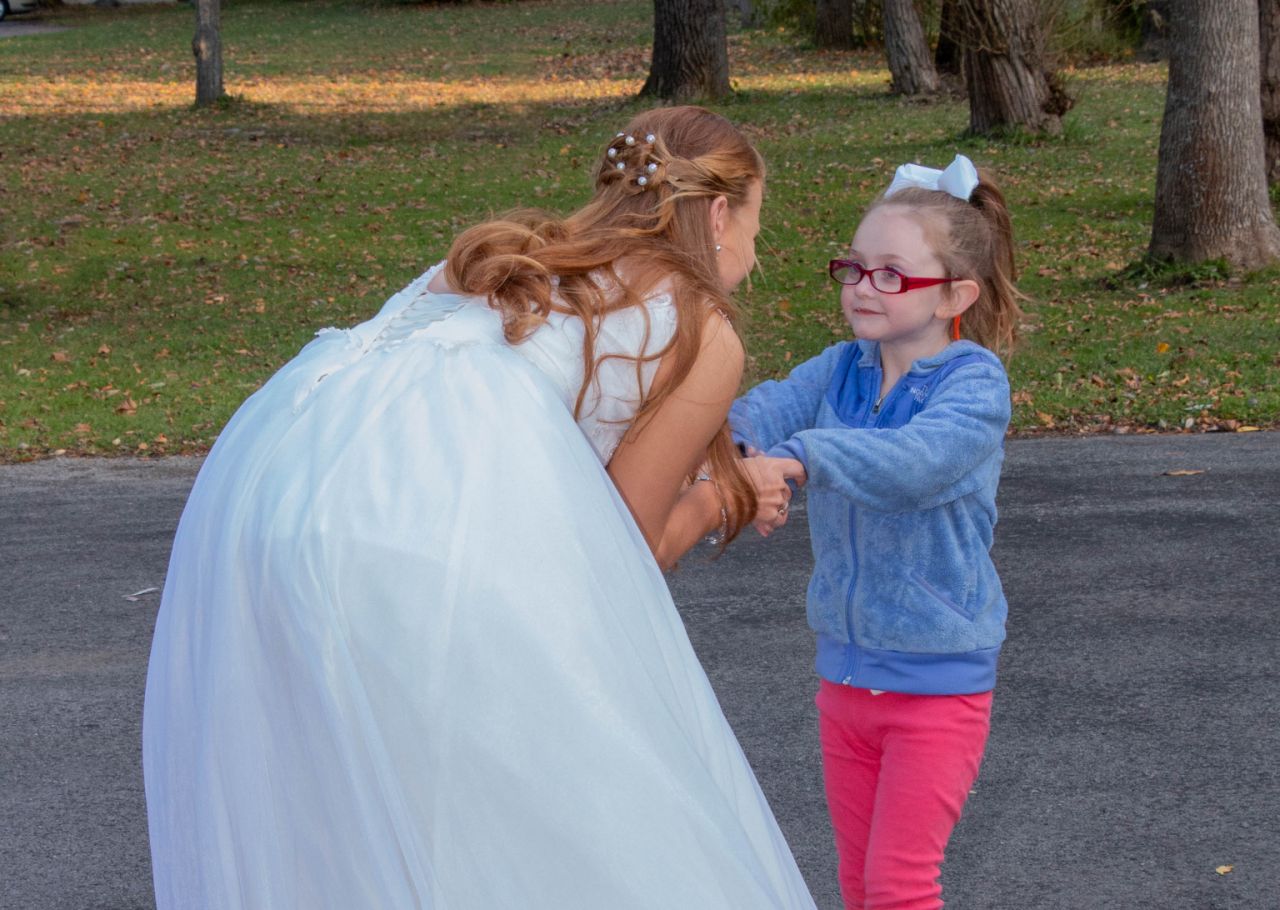 Newlyweds Olivia and Caleb Spark were at Akron Falls Park in New York to take photos between their wedding ceremony and reception.
"Suddenly, this little girl ran up to Olivia shouting, 'Cinderella, Cinderella!'" said wedding photographer Nicole Wickins . "I wasn't sure if I should take photos, but the girl's mother was watching and seemed OK with it."
Layla's mother, Jessica Lester, says she has a difficult time connecting with strangers. "When she sees a princess, she's going to love them because she loves princesses," Lester told Alabama NBC affiliate WAFF.
"I was flattered," the bride Olivia Spark told WAFF. "I was in tears that she thought I was a princess, and it just made my day absolutely more amazing than what it already was."
The day after the meeting, Spark's new mother-in-law shared the touching story on Facebook.
"The little girl … told Olivia she was beautiful and wanted to touch her dress," wrote Angela Spark. "My son and daughter in law and their wedding party were moved to tears by this little girl. Their photographer took photos of the little girl and they spent some time with her. Then Cinderella explained that they had to go because she had a ball to get to. Olivia and Caleb would like to find this mother and her daughter so that they can give her some photos from yesterday for this little girl to keep. Please share this with anyone you may know from Akron in hopes of finding her."
The facebook post garnered a lot of attention of course and people fell in love with Layla. This quickly prompted a GoFundMe page named "Help Send Layla to Disney World," which has now raised more than $3,000 to date.
I can't wait to see her face when she sees all those Disney princesses.
UPDATE: The GoFundMe campaign to send Layla to Disney World has made more than $800 since yesterday! This sweet girl is getting closer and closer to being able to meet all her favorite princesses ❤️❤️❤️ https://t.co/ftcUauJNuM

— Katie Alexander (@KatieNews4) October 22, 2018