Pregnancy is a miraculous, unforgettable time in a woman's life. For some women, pregnancy is just as every book and movie describes, magical and uneventful, while for other women experience challenges that are only made better when the baby is finally in the mother's loving arms. As soon as a woman hears that she is expecting a baby, she begins imagining what her little bundle of joy will look like. She begins thinking about whose nose they will have, the color their eyes will be, and how big he or she will be when they are born. No matter how much an expectant mother plans and imagines about her baby when the day finally comes and the child is born, they are always taken by surprise as to what their tiny bundle looks like.
Expectant mother, Christine Corbitt, was 29 when she became pregnant with her third baby, a daughter. Christine knew that her coming child would be on the heavy side considering her first two weighed in the range of 10 pounds apiece. However, she had no idea that her newborn baby would come out weighing a whopping 13 pounds. In the last month of her pregnancy, Christine's stomach did not grow any bigger. Her husband Larry mentioned how well his wife was looking and feeling towards the end of her pregnancy, and that they did not anticipate her giving birth to a baby weighing anymore than 10 pounds.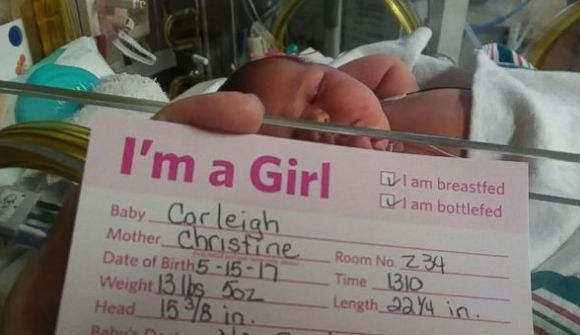 [jd_proper_ad id=1 target=both]
Six days before the baby's due date, the couple went to their doctor and found out that the baby was weighing more than either of their previous babies. Their doctor said that their newborn had what is called Macrosomia, which is a fancy way of saying that the baby would be born weighing more than a normal weight; the average weight of a newborn being about 8 pounds.
Macrosomia can be caused by several factors including the mother gaining too much weight during pregnancy, genetics that run in the family with people suffering from obesity, as well as the risk of diabetes, which is a risk that runs higher if the baby is delivered two or more weeks after its due date.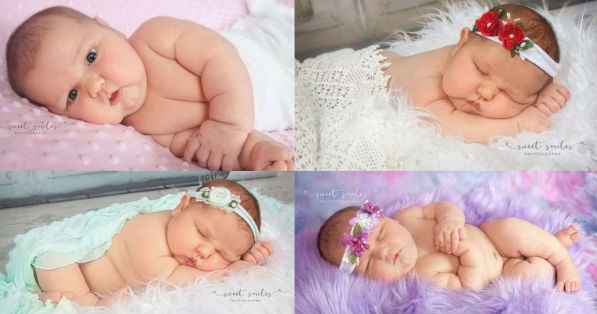 [jd_proper_ad id=2 target=both]
Since the Corbitt's baby was measuring so large and could run a health risk for both mother and child, the doctor went ahead and scheduled them for a C-section. Baby Carliegh was born six days before her due date, and her size did not fail to leave both parents and their team of doctors in shock. She was even bigger than they thought she would be, and doctors told the new parents of three that their new baby would have been born at an even heavier weight if they had waited to deliver her even until her due date.
Christine's pregnancy was rough as she struggled through anemia and the fatigue of keeping up with two other children. Both mom and dad were over the moon to welcome their new baby into the world, and both mom and baby are home and doing well!