Generosity and charity are some of the purest forms of love. People who are generous with their time, money and feelings are comparable to angels. The scriptures say that the most charitable and generous of the Lord's followers have been carved in the form of the Lord himself. There are thousands of people who go hungry to bed each night and when they meet a person who shares a morsel of food with them, they feel they have been graced by the presence of the Lord.  A young boy from San Diego felt the same when he met a kind stranger who offered to buy him food. But what happened next will shatter you to pieces.
"Give to him who asks of you, and do not turn away from him who wants to borrow from you." Matthew 5:42. This is certainly what Officer Jeremy Henwood of the San Diego Police Department believed in. A conscientious and driven law enforcement agent, his main passion in life was to help lost youth find their way back to the right side of the law.
A marine combat veteran, Officer Henwood had recently returned from his tours in Afghanistan and Iraq. A kind and caring man, Officer Henwood was renowned throughout law enforcement circles for his courage, his gentle disposition and his generosity.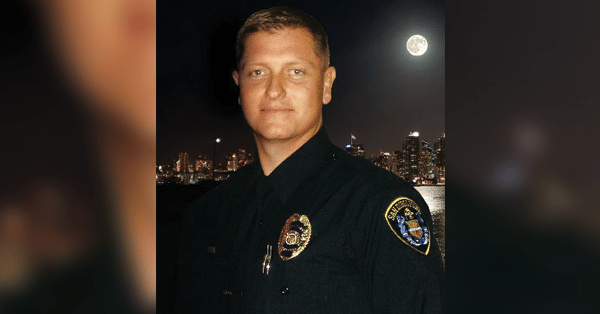 Officer Henwood's willingness to be of service to anyone who needed his help had always been the talk of the San Diego Police Department. He would routinely buy hungry children a meal without a second's hesitation. So, when one day a young boy asked if he could borrow ten cents for cookies, Officer Henwood offered to pay for the boy's food himself.  
A fleeting gesture, the memory of a lifetime
They say that kindness is repaid in kindness. When someone is good to us, we hope the best for them. This is exactly what 13-year old Daveon Tinsley wished for after his chance encounter with Officer Henwood.
Having visited his favorite McDonald's outlet for a bag of cookies, Daveon found himself standing in line behind Officer Henwood. The officer was buying a meal for himself. When it was Daveon's turn to order, he realized he was short by ten cents. He turned around to Officer Henwood and asked if he could lend him some money.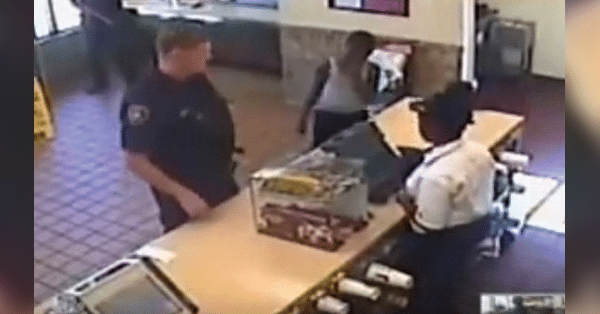 Instead of lending the ten cents, Officer Henwood decided to buy the boy the cookies for him. While buying a stranger a meal may seem an extraordinarily generous act, it was just another normal day for the officer. Attentive and compassionate, he would always try to be of service to everyone he met.
Having bought the boy cookies, the officer continued to make small talk with him. The surveillance camera in the McDonald's outlet shows Officer Henwood talking to the boy and then exiting the outlet after giving him the bag of cookies. What Daveon and the staff at McDonald's didn't realize was that this was the last they would be seeing Officer Jeremy Henwood alive.
After purchasing his meal, Officer Henwood got into his patrol car and continued his work. Minutes later, he was shot down by unidentified miscreants, just a few blocks away from the McDonald's where he met Daveon.
It seems a cruel twist of fate that someone as empathetic and benevolent as Officer Henwood would be killed in such a brutal manner. What makes it worse is that the officer was an honored war veteran who was respected for the service he provided his country on his tours in Afghanistan and Iraq. Citizens around the United States were shocked by the barbarity of the cold-blooded murder.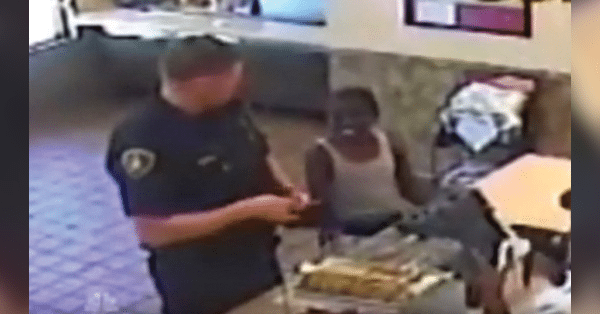 News of Officer Henwood's death spread far and wide and when Daveon Tinsley heard of it, he couldn't believe his ears. To think that a man who had just moments ago paid for his meal was no longer alive; was devastating news for Daveon. The boy's biggest regret is that he will never be able to thank the officer for his kindness and will never be able to repay him for his help.
But Officer Henwood's death was not in vain. Daveon Tinsley still thinks of the day that changed his life. Meeting an officer who was a decorated war hero, a trusted policeman and a wonderful human being, has made Daveon want to be the same. The sobering lesson that the boy got as a result of the tragic incident was how fragile and short life is and how important it is to lead a good life in service of others.
Today, Daveon wants to emulate Officer Henwood and be a kind and trustworthy individual his community can count on. His encounter with the officer has also shown him how far a small, unselfish gesture can go. It was because of the kind act of a stranger that Daveon was able to go to bed on a full stomach. Now, the boy hopes that he too can plant these seeds of kindness in the world.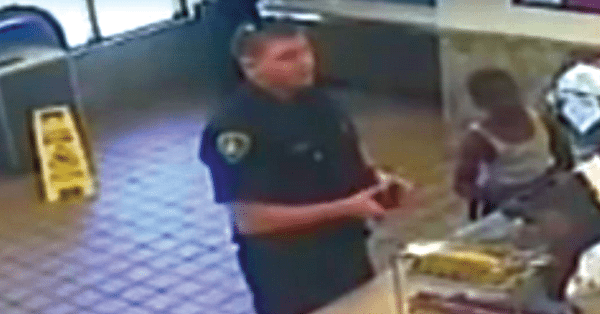 Remembered forever

Psalm 112:5-9 "It is well with the man who is gracious and lends; He will maintain his cause in judgment. For he will never be shaken; the righteous will be remembered forever. He will not fear evil tidings; His heart is steadfast, trusting in the Lord. His heart is upheld, he will not fear, until he looks with satisfaction on his adversaries. He has given freely to the poor, His righteousness endures forever; His horn will be exalted in honor."
Officer Henwood's final act of kindness resonates even today in the streets of San Diego. Children and adults alike think back fondly on the generosity of spirit he possessed. No other personage has gripped the collective thoughts of the people of San Diego today, as much as the memory of Officer Jeremy Henwood. As for Daveon Tinsley, he has taken the officer's words to heart and is working harder than ever to be a better student and a great human being.
Share this story to thank law enforcement officers for the sacrifices they make everyday to keep us safe!