While all of us may adopt a unique version of parenting, our eventual goal is to raise our little ones with great care and compassion and to ensure that they grow up to be respectable and responsible adults. It would be great if we could simply transfer our life lessons into the minds of our children and ensure a trouble-free life for them. Instead, we are charged with the challenging ordeal of witnessing our babies experience their own life's hurdles and learn from them. But, then there are dads like Randy Gaines who are there to show us the ropes. In a Facebook post captured on video by his wife, Randy is seen having a heart to heart conversation with his little daughter where he introduces her to a powerful truth of life. In the video, the father is seen discussing with his angry daughter the implications of aggression and why it is okay to feel such emotions sometimes.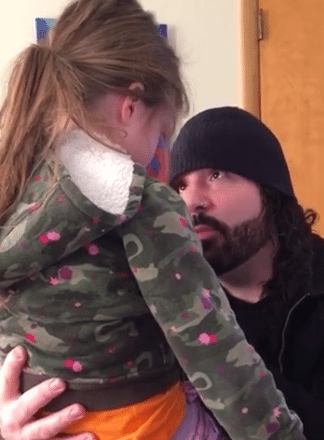 Expressing her views on the video, the mother writes, "I think I just watched and listened to one of the most powerful conversations in my life." She further describes how calmly and wisely her husband establishes an emotional connect with their daughter and teaches her the importance of respecting boundaries in relationships. He also helps her understand the different ways of venting her negativities through healthy outlets such as running, walking or punching a pillow. He ends the conversation by reassuring her of their love and care for her and how they would always be there to hold her when she falls. The mother ends her post by saying, "I am so blessed and so thankful to have this man as my other half. Our girls are blessed to have him as their father. Thank you, Randy Gaines, for being you!"
Share this story to inspire other parents today!