An adorable dog has been found waiting at the ruins of his family home after it was tragically destroyed in the devastating California wildfires.
Madison, an Anatolian shepherd, was found alive and in great shape a month after Camp Fire forced her owners to evacuate their home. The home was later destroyed by the fire.
https://www.facebook.com/K9PawPrintRescue/photos/a.655895884435273/2222431644448348/?type=3
The dog's owner, Andrea Gaylord, was forced to leave her beloved Madison behind, along with his brother Miguel, when authorities said that the conditions were too dangerous to return.
A neighbor later found Miguel, who'd managed to escape the flames and made his way to Citrus Heights. But Andrea believed Madison may have also survived.
In an attempt to find the missing dog, Shayla asked Andrea for an article of clothing which she could leave on the ruins of the home, hoping that the dog would pick up on the scent.
Astoundingly, when Andrea returned home earlier this week she found that Shayla's plan had worked and Madison was waiting for her while 'protecting' what was left of the family home.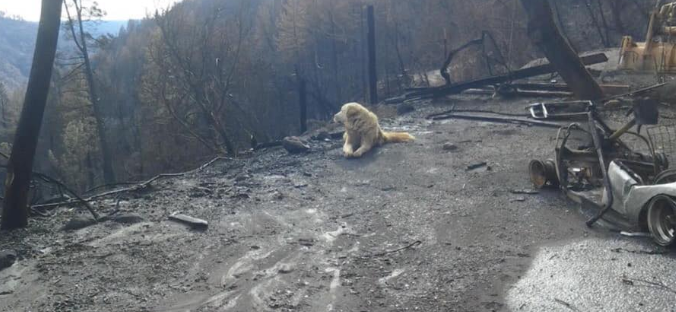 Sullivan wrote on Facebook:
"After meeting Andrea in person when I took Miguel to her, I had the idea of placing an article of clothing that would smell like her( i had hugged her) to keep Madison's hope alive until his people could return.
WELL, I'm so HAPPY to report that Andrea was allowed to return to her property today and THERE MADISON WAS!!!! He had stayed to protect what was left of his home, and NEVER gave up on his people!"
Andrea is just one of the thousands of people living in California who've had their lives turned upside down by the Camp Fire, the deadliest and most destructive wildfire in California history.
Camp Fire killed at least 85 members of the public, injured 17, and covered an area of about 153,336 acres. It burned for more than two weeks and destroyed 18,804 structures causing an estimated $7.5-10 billion in insured damage.
The fire began on November 8 and was completely contained on November 28, more than two weeks later.
Authorities are currently looking into what started the fire but it's been reported they believe that a badly maintained steel hook, which was holding up a high voltage line, may have been a key cause of the fire.
8,434 fires have been reported over the 2018 wildfire season, making it the most frequent and destructive season on record.
Fires have caused more than $3.5 billion in damage and killed 97 civilians and six firefighters this year.