God gives us many gifts in our lives. Yet, none seems to be more important than the greatest gift given and a continuation of our legacy in the form of Children. Children are the most treasured parts of our family. And their arrival into our world is often celebrated with great enthusiasm. It doesn't matter what child you have, only that you will love the treasure given to you for all time. Some people have more than one child. And welcoming a new member into the family is always a tense yet unimaginably happy affair.
Dad Celebrates Arrival Of New Baby With His Daughters
The welcoming of a new member of the family is both tense and joyful event. There are several arrangements that need to be made, from the nursery to the baby showers. And the children in the family get excited over welcoming a new playmate in their lives.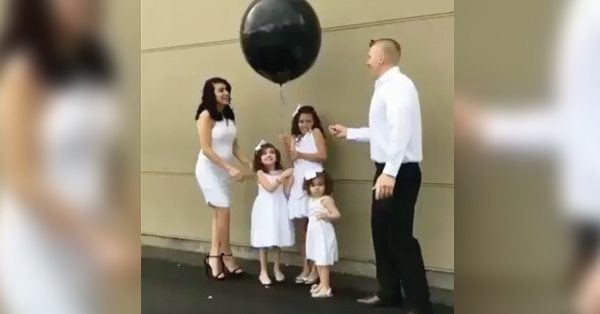 In some families, knowing the gender of the baby is essential for their preparations. They need to coordinate colours, toys and books based on what they think is best for the child.
One family in particular had a unique idea for the gender reveal. The family had three beautiful girls and had been praying for a boy to enter their lives.
The reveal arrangement was made so that the oldest of the girls held on to a large, black balloon, which was filled with either pink powder for a baby girl or blue powder for a baby boy. The rest of the family stood in front of a plain wall. All of them were dressed in white which gave away no hints.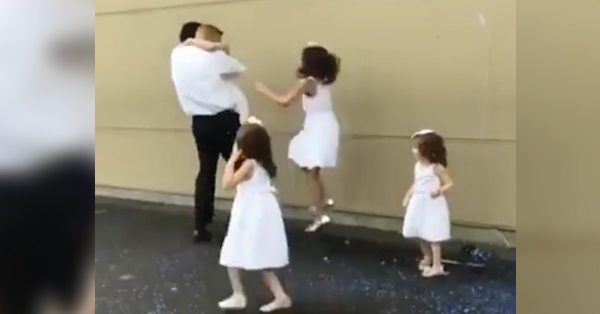 The father was given the honours of popping the balloon and his reaction was truly adorable. When the balloon popped and released blue powder, he started jumping with joy. The girls then joined in his happiness and began celebrating the arrival of their baby brother. The man then embraced his wife while she started crying with emotion. The family then shared another hug and the father swooped up his daughters and swung them around.
Dad Sets Up The Most Epic Gender Reveal With Help From Friends
Gender Reveal celebrations are very unique and depend on how the parents want to arrange the event. This generally occurs in the form of cakes, banners, balloons, outfits and parties.
However, Taylor Calmus was pretty creative with his baby's gender reveal. Along with his friends, he set up a Rube Goldberg contraption with many intricacies involved. It was a machine pulled straight out of a cartoon and took several people to put together. They tested the contraption for three days until they got it right and filmed the final result. This video was posted on Taylor Calmus' Dude Dad Vlog.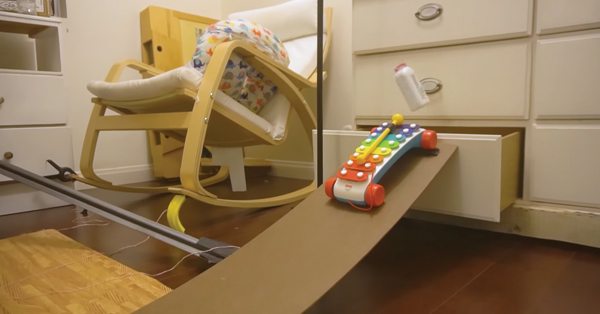 The vlog was started in 2012 and currently has over 8,000 subscribers. It has undergone several transformations as Calmus has turned from actor and comedian to father.
Calmus said, "When my wife, was pregnant with our son, Theo, we weren't going to find out the gender until he was born, but the doctor slipped up and told us two weeks before he was born and ruined the surprise. So this time when she got pregnant again I was like, 'No way are we waiting again!'"
Calmus said that they had to test the complicated contraption over fifty times until they got it right. The final version is the one filmed and has over eight million views!