A 19-year-old Dairy Queen manager watches a blind man drop his cash as the woman behind him picks it up. What he did next went viral…
A Dairy Queen worker has been hailed a hero after he challenged a woman for stealing $20 from a blind man who'd accidentally dropped it on the floor.
The 19-year-old Joey Prusak said the woman, in her 50s or 60s, swept in behind the man as he fumbled with his wallet in the Hopkins, Minn. store.
"Before I could say anything, she picked it," Prusak said. Prusak thought she'd give the money back, but she stuffed it in her purse instead.
"I was kind of in shock," Prusak said. "I was apalled by the situation."
Prusak told her to return the money, but she boldly pretended she had just dropped it.
"She looked at me and said, 'That's my money,'" Prusak said.
The moral Minnesotan explained he'd seen everything, but she only argued louder.
"I finally told her, 'Ma'am, I'm going to ask you one more time to return the money or leave the store,'" he said.
Unbelievably, she still refused.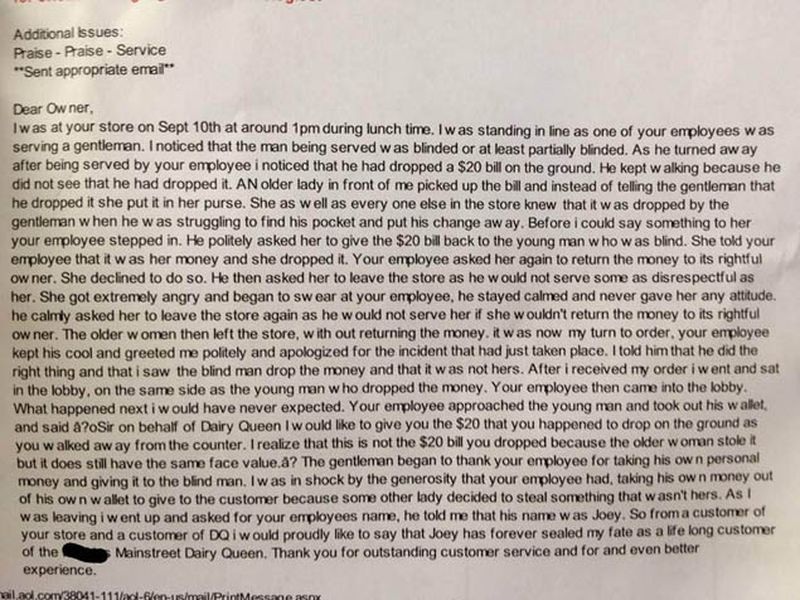 Watch Prusak explain the whole story: