For those in the fashion industry, the runway is a place to show off your styles. The models glide by in gently swaying outfits and an eloquent gaze, but at a recent show in Turkey, it was a feline friend who was fashionably fierce.
At Emaar Square Mall in Istanbul, the base was booming and the lights were dim. The Esmod International Fashion Show had begun when a black and white young cat showed up and decided to join in the action. It sat and observed at first while finishing up some personal grooming. After a little playful moment or two, it was time to strut and strike a pose.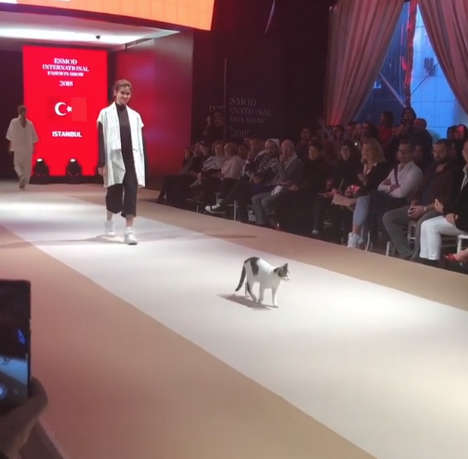 "Everybody was in shock, " the line's designer Goksen Hakki Ali reflected in an interview.
The models continued on with the show and gently walked a path around the unexpected guest until it decided to take center stage. It couldn't help but swat one girl's knee as she approached beside it. The kitty strolled to the end of the runway just as the other women did.
Of course, the audience tried to focus on the uniquely designed pieces, but the cuteness took over and smiles filled up the crowd. Even the models broke character with soft looks at the little cat. Several guests chuckled and recorded footage of the situation.
The moment was originally posted on social media and has become incredibly popular in a short period of time. Cat emojis, laughter and plenty of 'catwalk' references continue to flood the comments.
When playfully inquired about the potential modeling career of the cat, Goksen replied with, "Haha, maybe. Why not?"
Even though height may be a small issue, it seems like this guy might be our next top model.