There is so much division and disunity in the world that, more often than not, it is all we hear about. Despite our differences, however, there is still love in the world, and people who go out of their way to help one another. It is in times when people from different walks of life get together to do something good that we are reminded of the power of unity and of love. The greatest commandment that we are given is to love God with all our hearts, souls and minds. The second greatest commandment is to love our neighbors as ourselves. Here, 'neighbors' doesn't only mean the people who live next to our homes. It means everyone who we come into contact in, i.e. everyone near and around us. What about love? What does it mean to 'love' our neighbors? It means to treat others with respect and kindness, showing compassion and being helpful to anyone who needs it. It isn't about the feeling; rather, it's about the actions – what we do to be good to other people.
In this digitally connected world, we are bombarded with news about horrific incidents from all around the world whenever we turn on the television or scroll through our social media feeds – war in several parts of the world, political differences creating divisions among people of the same nation and leading to violence, crimes of all kinds, so many suffering in poverty while a privileged few live in luxury bought with corrupt money, etc. In the midst of all this, one is left to wonder about the state of humanity and if there is any hope for us. Mercifully, there are still good Samaritans in this world. If you're feeling hopeless about what this world has come to, let this story of an incident that occurred recently restore your faith in humanity.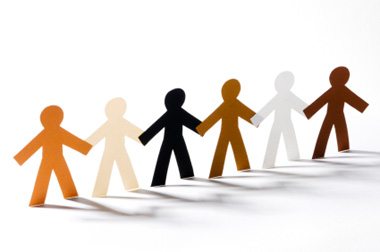 Good Samaritans Come Together To Rescue A Child Trapped Under An SUV
In Ruskin, Florida, a Ford Excursion SUV was traveling on the northbound lanes of the I-75 highway towards Gibsonton Drive when one of its rear tires burst, causing the driver to lose control of the vehicle. The SUV skid and swerved into the grassy median, flipped over the guardrail, finally landing on its roof. There were three passengers in the vehicle – a 31-year old woman and her two children, from Port Charlotte. Upon seeing the crash, a few people pulled over and went to help. They managed to get the woman and one of her children out. After being pulled out of the wreckage, the woman told the helpful strangers that her youngest child was stuck underneath the vehicle. They ran to the other side of the vehicle and saw the arm of a little girl, 9 years old, sticking out from under the SUV.
The girl was partially trapped under that heavy vehicle, unable to get out. At first, they tried to roll the SUV over but were unable to move the vehicle as it was very heavy. Soon, though, more and more people pulled over along the highway and joined to help in the rescue efforts. One of the people who stopped to help was Dayna Gibson, traveling with her father David Lowe, who took a picture of the dozens of people working together to roll the SUV over. According to Gibson, there was eventually around fifty Good Samaritans in total who gathered and together were able to roll the SUV over safely and rescue the little girl from underneath it. They then stood holding the vehicle upright to make to prevent it from tipping back over before the ambulance arrived. The 3 rescued passengers were taken to Tampa General Hospital and treated for injuries, none life-threatening, thankfully.
In the picture that Gibson took, you can clearly see that there were all different kinds of people there, but in that moment the differences didn't matter. They were all there to show love to their neighbor, all differences set aside – to lend a helping hand to someone in need.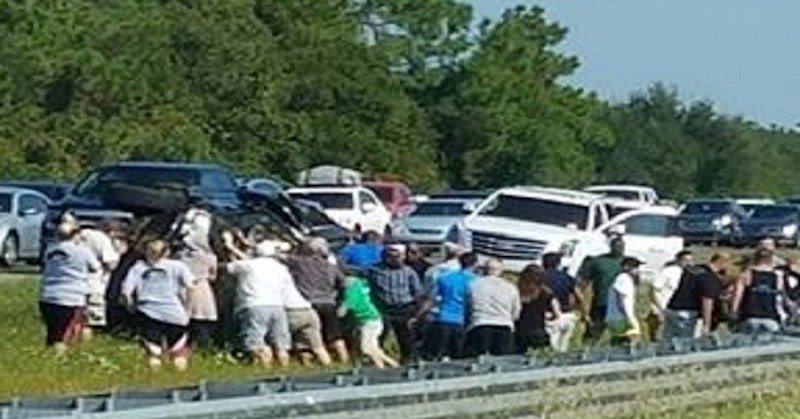 Share this story to prove that there are still wonderful and caring people in the world!