Kindness is the greatest virtue that draws us closer to God's ideals. Nothing measures up to the goodness of a small act of kindness that has the power to change someone's life for the better. While waiting at a traffic signal, ShelbyLynn Alexander noticed a man who was holding a sign that read, "Need a little help. Will pay it forward." Recalling her experience that day, Alexander shared a Facebook post in which she wrote that she reached out to the man and handed him three bills along with her business card. As she is a real estate agent, she felt that sharing her business card with the man might help him get a place to live sometime down the line.
However, Alexander was completely unaware of how her small act of kindness could contribute to transforming this man' life in a big way. She adds, "Tonight at work, I received a call from a man who wanted to see one of our houses and had asked for me by name." It was the same guy that she had helped with the money a couple of months back! The teary-eyed man returned her three bills wrapped around her business card. He revealed to her how his wife had abandoned him for another man and run off with all his money. He further added that her benevolence had helped him recover from his difficult times and it was time he paid her business forward as his placard had promised. Blessed with a generous heart, Alexander had apparently done something for this man in need that will forever stay etched in his mind as a pleasant memory.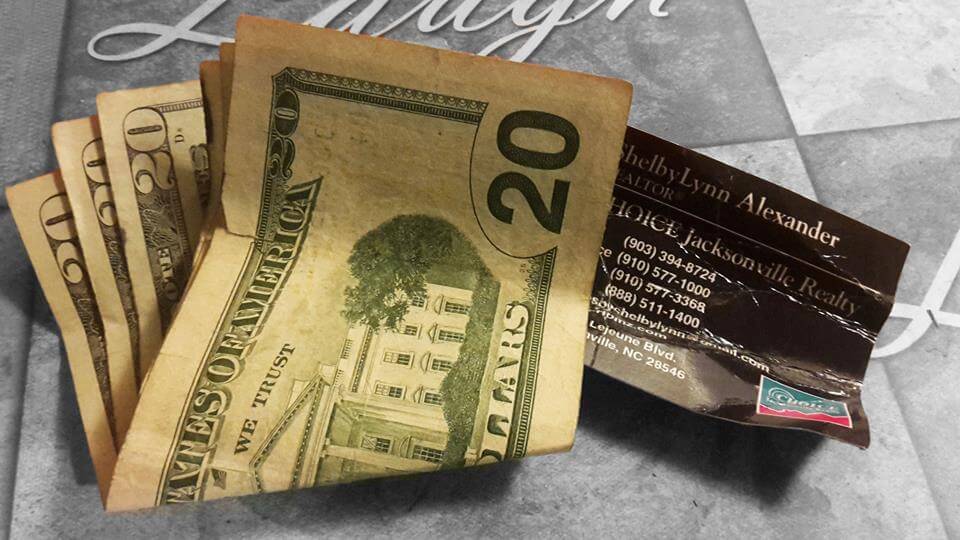 Share this story to spread positivity and inspire more acts of good today!