Many of us love watching tv with our families and playing along with contestants while watching game shows. 'Wheel of Fortune' is one popular game show that many of us have grown up watching and I personally have fond memories of watching this show with my family! One player who was on the show recently made a really big mistake while solving a puzzle and his answer is making the internet scratch their heads wondering what in the world he was thinking!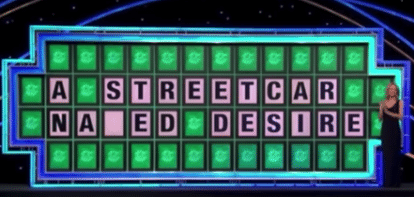 The contestant, who is as Kevin, had to fill in the letter to the title of the well-known movie: "A Streetcar Na_ed Desire." The only thing he had to do to complete the puzzle and finish his turn was to guess the letter "M" in the title.  The contestant, whose winning rounds had earned him $1,600 so far, spun the wheel and landed on the $600 space. However, Kevin offered the letter "K" to spell the word "Naked" and got the puzzle wrong! Of course, the video has been shared and the internet is going crazy by his response. Watch what happens next in the video below:
[Source/Business Informs]
Share this story and see what your friends think of Kevin's answer!