Even though Elvis passed away 40 years ago, his legacy is still as strong as ever. Since his untimely death, the mythology surrounding him has grown to epic proportions and many people wonder: What would Elvis look like today if he were still alive?  These pictures give us a glimpse.
Regarded as one of the most significant cultural icons of the 20th century, Elvis is often referred to as "the King of Rock and Roll", or simply, "the King". Though it has been documented and recorded that many times when referred to as "King" Elvis would respond, "There is only one King, and that is Jesus Christ. I'm just an entertainer." Throughout his life, Elvis would share his faith and religious upbringing with the world.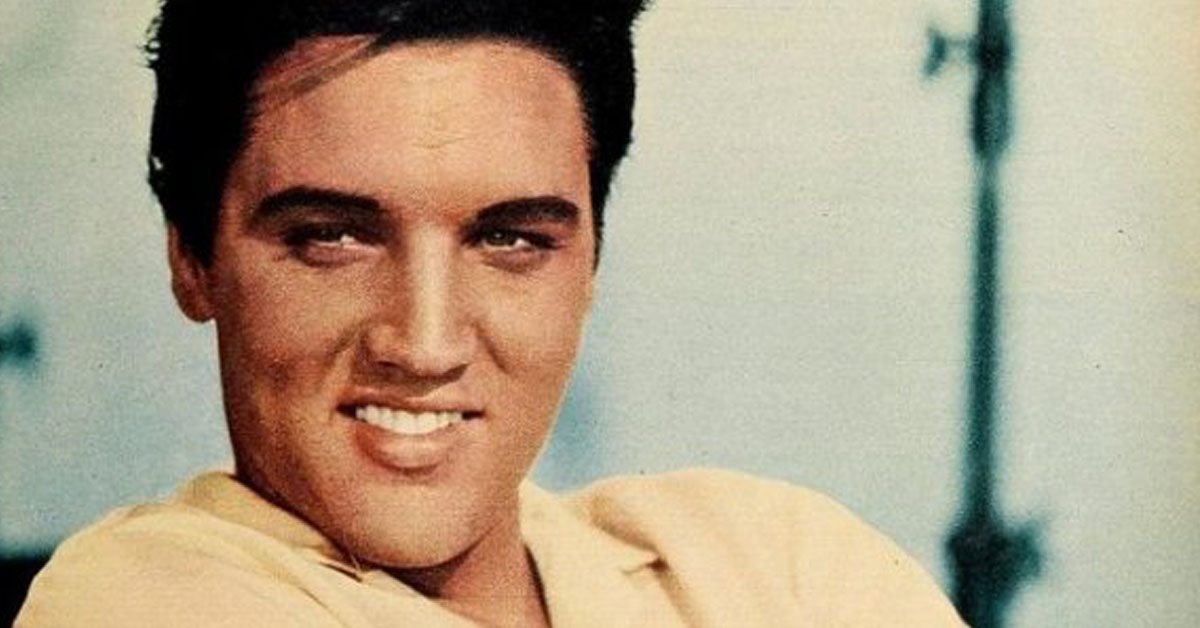 Presley was born in Tupelo, Mississippi. When he was 13 years old, he and his family relocated to Memphis, Tennessee. His music career began there in 1954, when he recorded a song with producer Sam Phillips at Sun Records. In November 1956, he made his film debut in 'Love Me Tender'. In 1958, he was drafted into military service and resumed his recording career two years later.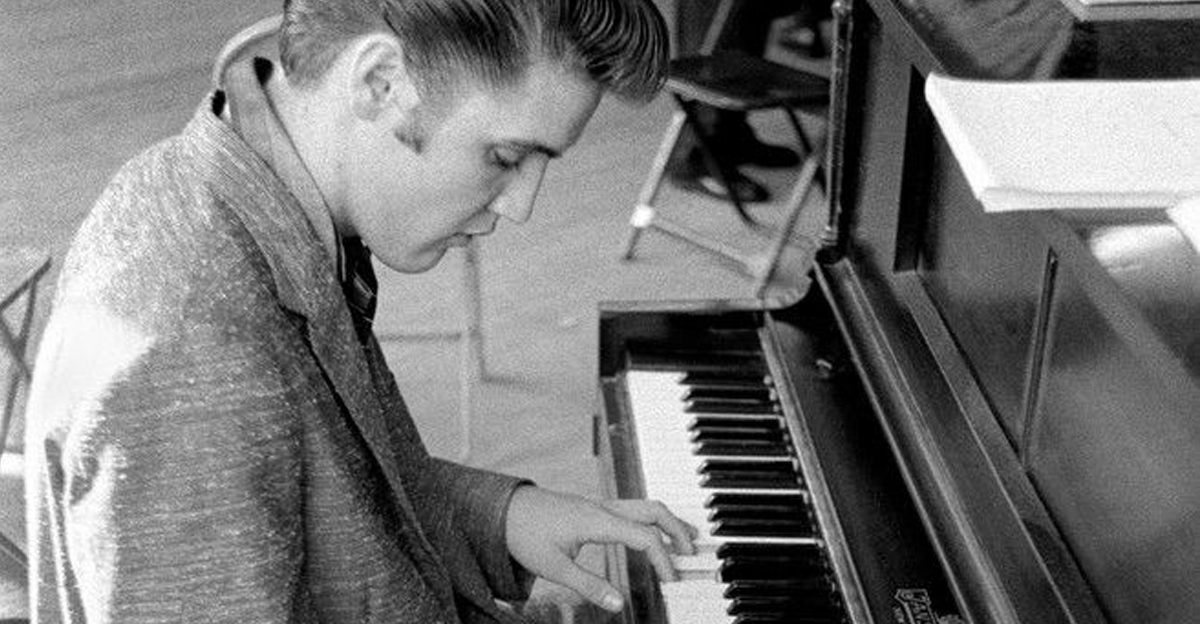 In 1968, following a seven-year break from live performances, he returned to the stage in the acclaimed televised comeback special 'ELVIS'.  In 1973, Presley was featured in the first globally broadcast concert via satellite, 'Aloha from Hawaii'. Sadly, after several years of prescription drug abuse severely damaged his health, and he died in 1977 at the age of 42.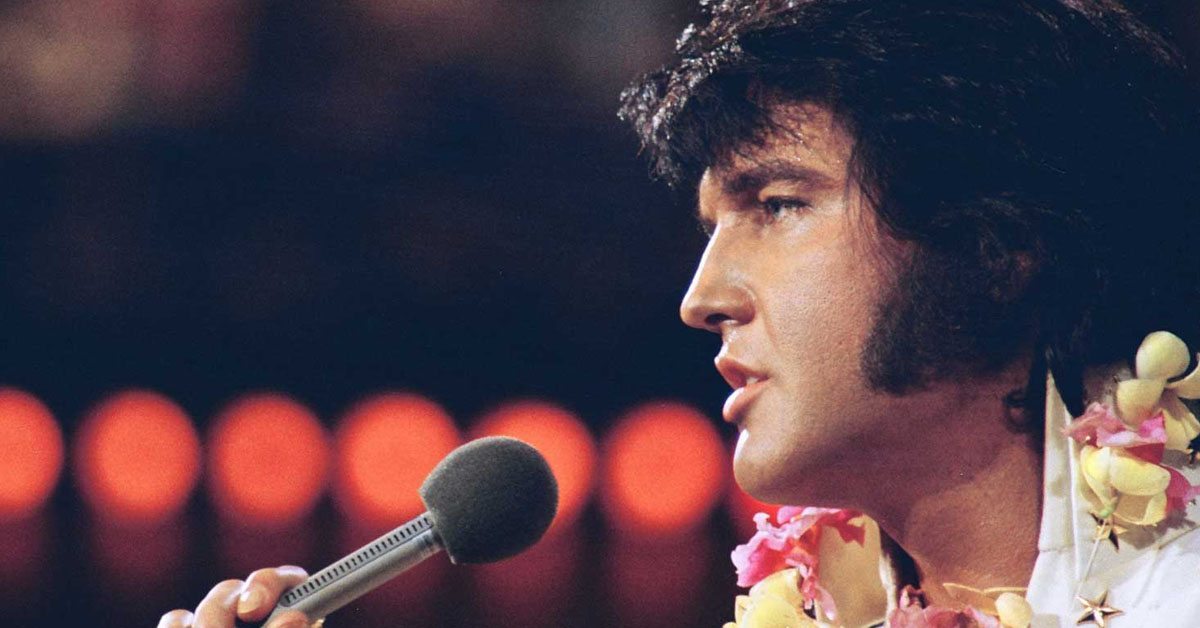 Presley is one of the most celebrated and influential musicians of the 20th century.  He won three Grammys, also receiving the Grammy Lifetime Achievement Award at age 36, and has been inducted into multiple music halls of fame.
What would Elvis look like today?  Here is an artist rendering:
This is what Elvis would look like today, using FaceApp technology:
Listen the Elvis sing 'Glory Glory Hallelujah'
His American sales earned him gold, platinum or multi-platinum awards for 150 different albums and singles.
During his "concert years" from 1969 to 1977, Elvis gave nearly 1,100 concert performances.
Approximately 600,000 people visit Elvis's home, Graceland, each year. Graceland was placed on the National Register of Historic Places in 1991.
Here are 21 interesting facts about Elvis that you may not have known:
1. He is famous for having those luscious black locks! But, did you know that his hair was actually dyed?! His natural hair color was actually brown!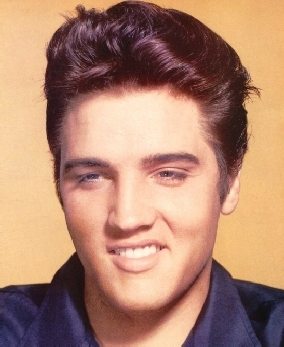 2. Elvis bought his first guitar when he was only 11 years old. He originally wanted to buy a rifle, but his mother had convinced him to use that money for a guitar instead. Well, we think that was definitely the right decision!
3. Elvis actually had the opportunity to sing on air at a local radio station in 1947. He was only 12 years old at the time and ended up not doing it because he was too shy to sing on air!
4. Elvis paid $4 to make his first record when he was 18. He made it as a gift for his mom!
5. In 1952 Elvis auditioned for a gospel quartet named the Songfellows. Unfortunately, they turned him down! What a mistake!
6. Also in 1952, a local radio station played Elvis' version of "That's All Right". The DJ went on to play the song 13 more times that day.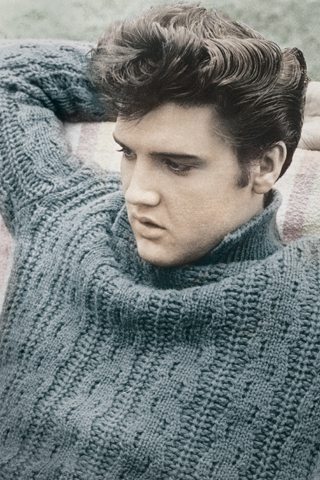 7. His breakthrough hit was "Heartbreak Hotel" which was released in 1956. This song was inspired by a newspaper article about a local suicide.
8. TV show host Milton Berle told Elvis that he should put down his guitar for a performance. Berle reportedly said, "Let 'em see you, son." Elvis got up and danced while singing, earning the name "Elvis the Pelvis".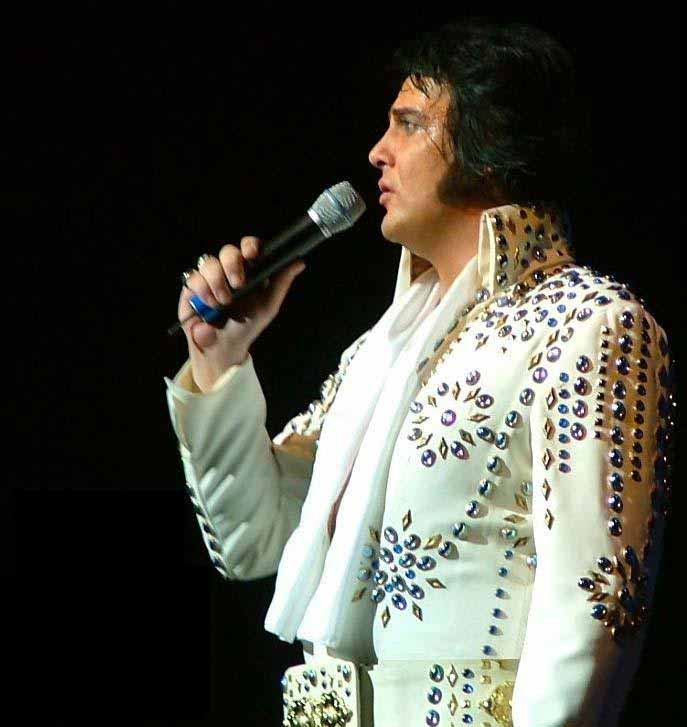 9. A Florida judge called Elvis 'a savage" because he believed Elvis' actions and music were "undermining the youth." Elvis was forbidden from shaking his hips during a performance, so he waggled his finger instead as a sign of protest.
10. He played 5 concerts outside of the US while on a 3 day tour in Canada in 1957. Those were the only shows he ever played abroad, many people believe the reason was because his longtime manager, Colonel Tom Parker, was an illegal immigrant from Holland. If Parker would have applied for a US passport he probably would have been deported.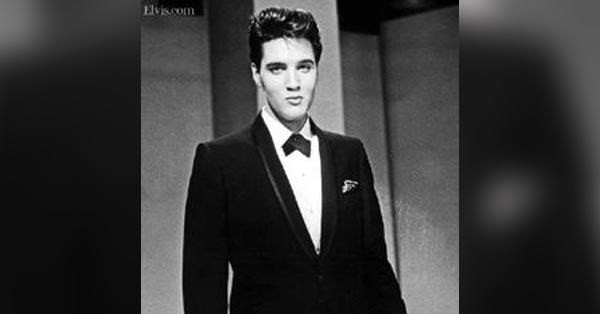 11. Parker was known for having an eye for talent and loved to make fast money. It is rumored that before he was Elvis' manager, he would paint sparrows yellow and sell them as canaries.
12. Elvis was about 6 feet tall and it is believed that he wore a size 13 shoe!
13. Elvis reportedly demanded to do 31 takes while recording "Hound Dog" in the studio.
14. Elvis bought Graceland in Memphis, TN in 1957 for only $100,000! The mansion was named after the original owner's daughter, Grace.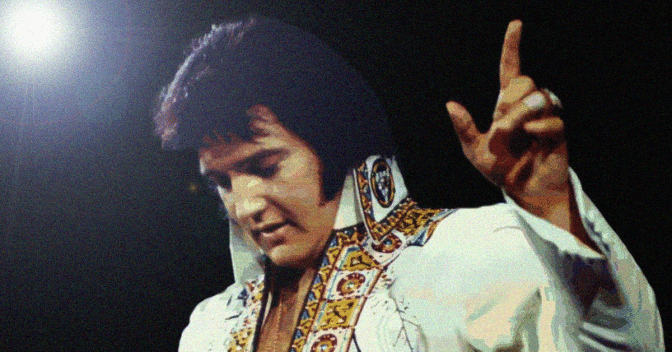 15. Elvis decided to do a lyric change while performing "Are You Lonesome Tonight?" in Las Vegas in 1969.  Instead of singing "Do you gaze at your doorstep and picture me there?", he sang "Do you look at your bald head and wish you had hair?"
16. Elvis began his film career when he was in a western called "Love Me Tender" in 1956. His second film "Loving You" actually featured his parents as audience members. His mother passed away in 1957 and he never watched the film again. He did, however, go on to make a total of 31 movies in his career.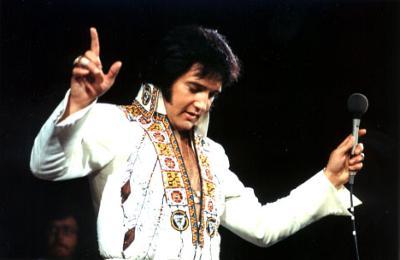 17. In December of 1957 Elvis was drafted into the U.S. Army. He earned $78 a month as salary, but was unable to access his music generated income of $400,000 during those 2 years of active duty.
18. Elvis met his wife, Priscilla Beaulieu, in 1959 while he was serving overseas in Germany. He was 24 and she was 14 when they met, but they didn't get married for 8 more years.
19. Elvis' 1960 hit "It's Now or Never" was a very inspiring song. A prisoner named Barry White had heard the song while he was in jail and decided to pursue a career in music.
20. Elvis and Priscilla's only daughter, Lisa Marie Presley, was born in the year 1968. She later married Michael Jackson and Nicholas Cage. Nicholas Cage is reportedly the only person outside of the immediate family to ever see Elvis' Graceland bedroom.
21. Elvis' popularity started to fade on the 1960's due to the rise of bands like "The Beatles" and "The Rolling Stones". He decided to try and relaunch his career with a 1968 TV special, it ended up being a success!