Cake flavors like chocolate or vanilla are always delicious, but sometimes their super-rich sweetness can be too much. If you're craving something a bit lighter, we have the perfect cake for you. Presenting the Strawberry Lemonade Poke Cake, which brings classic sweet and tart flavors together in a light and flavorful cake. And there's still a ton of decadence, thanks to a cream cheese filling that ties the whole wonderful package together!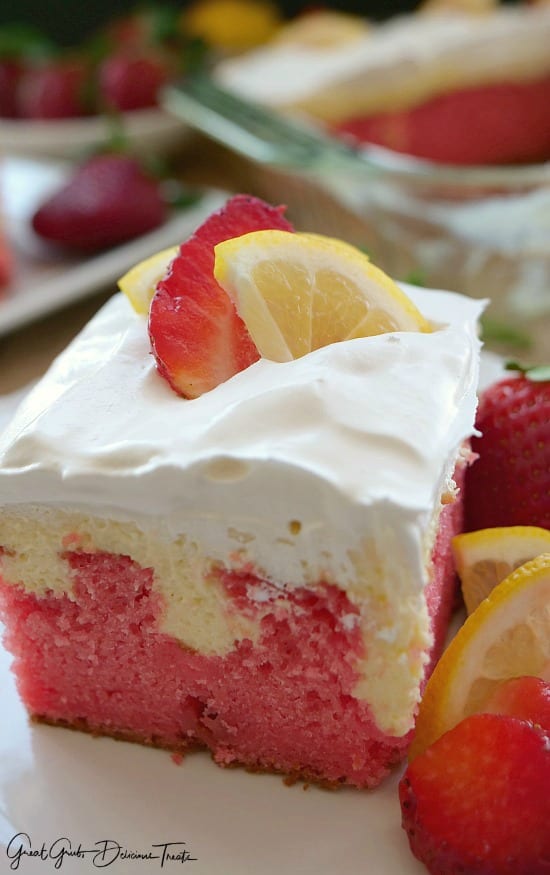 To get started, let's talk about the poke cake. What is it exactly? It's a simple way to add amazing flavor and moisture to a cake that's already been baked. The process involves poking holes in the cake and either drizzling or spreading a filling into it. Such a small, easy technique can add layers of incredible, complex flavors to even a basic cake.
In Great Grub, Delicious Treats' version of the Strawberry Lemonade Poke Cake, the author uses a strawberry cake as the base and then creates a cream cheese-lemonade filling that makes the final product mouth-watering! And one of the best parts of this recipe is that it starts with a basic boxed cake mix. How great is that?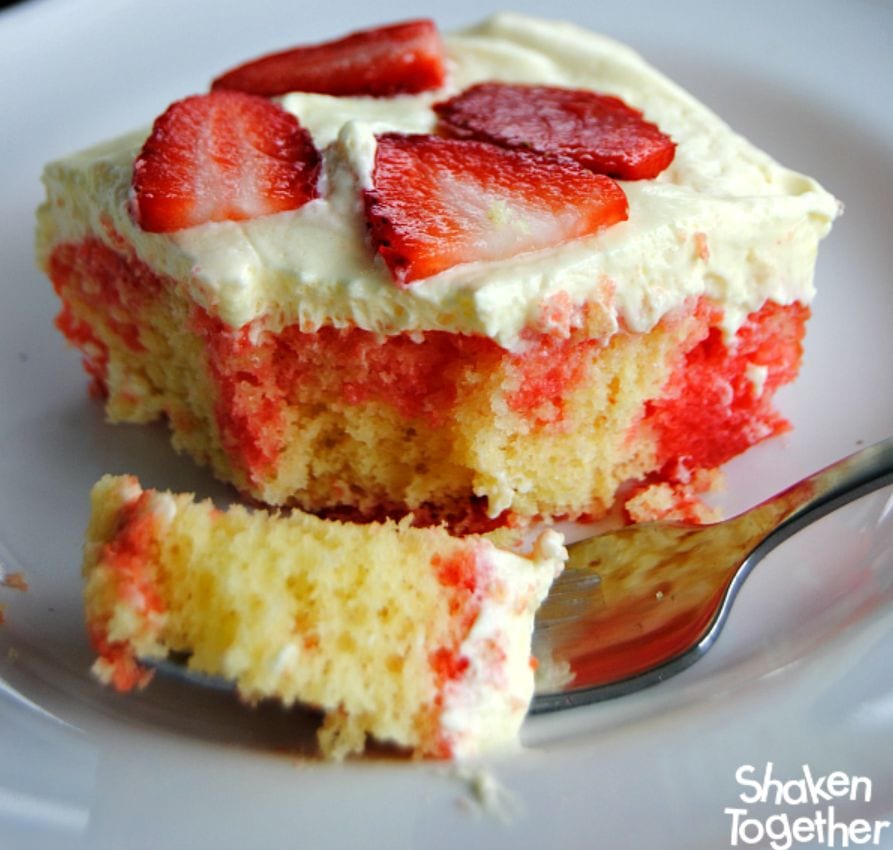 Strawberry pie filling gives the cake the extra punch of tartness and sweetness it requires to make it just like the sun on a plate. The cake's topping is a strawberry-cream mixture adorned with fresh strawberries. The end result looks so delicious!
With these easy-to-follow steps, you'll get a delicious dessert with hints of fruity flavor throughout. A simple, homemade lemon frosting topped with fresh strawberries completes this amazing creation perfectly.
These recipes are perfect if you're craving something light and summery — even in the middle of winter.
Strawberry Lemonade Cream Cheese Poke Cake
Prep Time – 20 mins
Cook Time – 40 mins
Total Time – 1 hr
Ingredients – For the Strawberry Cake
1 box strawberry cake mix
1 3 oz box strawberry flavored jello
3/4 cup vegetable oil
1 cup warm water
3 eggs
For the Lemonade Cream Cheese Filling
2 8 oz pkgs cream cheese
3/4 cup frozen lemonade concentration
5 oz can evaporated milk
1 3.4 oz box lemon instant pudding and pie filling
1 8 oz container cool whip
Optional: sliced strawberries and lemon slices
Instructions For the Strawberry Cake
Preheat oven to 350° and spray a 9 x 13 glass baking dish with a non stick spray. Set aside.
In a large mixing bowl, beat cake mix, jello, eggs, oil and water until well incorporated.
Pour into prepared baking dish and bake for 39-42 minutes or until tooth pick inserted comes out clean.
While cake is still hot, poke holes with the end of a wooden spoon all over the top of the cake.
Let cool completely.
For the Lemonade Cream Cheese Filling
In a medium mixing bowl, beat cream cheese for 3 minutes on medium speed until creamy.
Pour lemonade concentrate into cream cheese and beat until well blended.
In a small mixing bowl, beat evaporated milk and pudding mix for approximately 45 seconds.
Add pudding mix to cream cheese mixture and beat until well incorporated.
Spoon some of the lemonade filling mixture into a sandwich baggie and cut a small opening in the corner of the baggie.
Squeeze filling into each hole and then spread the remaining filling mixture over the top of the cake.
Cover with plastic wrap, chill for 4 hours and then top with cool whip and sliced strawberries and lemon wedges before serving.