There will be many times when you look up at the sky and spot familiar shapes in the clouds. They may resemble a multitude of things, depending on your imagination. It can be a dog, a cat, scary monsters, or cute birds.
However, you may see the unexpected sometimes. This story about Danny Ferraro and his wife Carmen proves it. On a Monday, the couple was driving just outside of Montgomery, Texas. Suddenly, they notice something unusual in the sky. As the clouds covered the rising sun, the silhouette resembled the outline of an angel. Not to forget, the figure also had the halo around the right spot.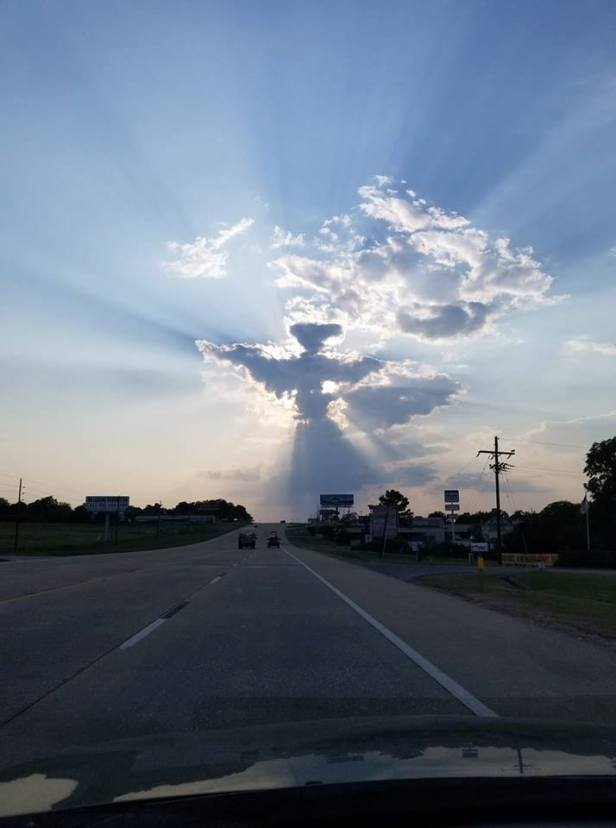 Danny clicked a picture of the cloud in a jiffy and shared it on his Facebook account. Everyone was amazed to see what Danny called the "Texas Angel." The sight of the angel made Danny feel that it's the Almighty that's showing a glimpse of Himself. He found relief in a voice that promised to stay with him always.
For the couple, the drive on Highway 105 wasn't like any other ride. The couple considers themselves faithful Christians, so the amazing picture of the angel somewhat increased their faith in God. They ultimately believe that life certainly strikes with good luck unexpectedly.
Things that you thought were never possible suddenly stands before you like a living and breathing reality. God's always there, and his voice is always guiding us. We just have to embrace his love and enjoy the majestic ride of life.