God gifts each one of us with specific skills and talents that we should use to bring him glory! Jennifer Hudson is a singer who is famous for her powerful, soulful voice. We are huge fans of Jennifer and her work! Now, Jennifer is back and teaming up with American Family Insurance for a fun little project!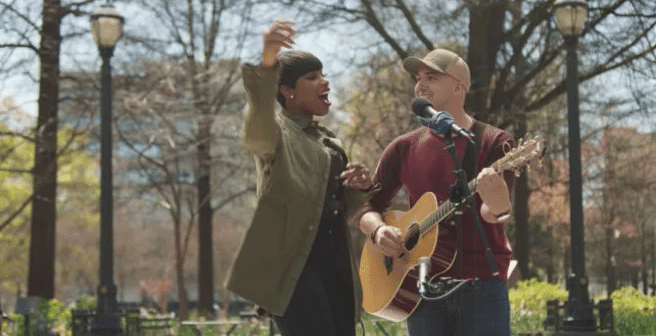 Jennifer Hudson and American Family Insurance recently teamed up to give one talented street musician the experience of a lifetime. The musician, Alex Gutherie, is a talented man from Atalanta who seemed to going about his business as usual when he suddenly got a huge surprise! He was absolutely stunned when Jennifer Hudson appeared next to him while he was performing and joined him! The two sang a beautiful duet of the Bill Withers classic 'Lovely Day' and it's truly amazing! And, not only was Alex surprised, but so was the entire crowd that gathered to watch! Watch the video below to see the performance for yourself:
https://youtu.be/FpdKo6JnQJA
[Source/Happiest]
Share this story and amaze your friends with this beautiful duet!