Dogs are frequently referred to as a man's best friend.
It's no small wonder why, really, when all is said and done. They're amazing, caring, protective and, most importantly, extremely loyal to the very last.
That can definitely be said for one dog from Woodbridge, Virginia, who most recently saved a 10-year-old girl from being kidnapped in broad daylight.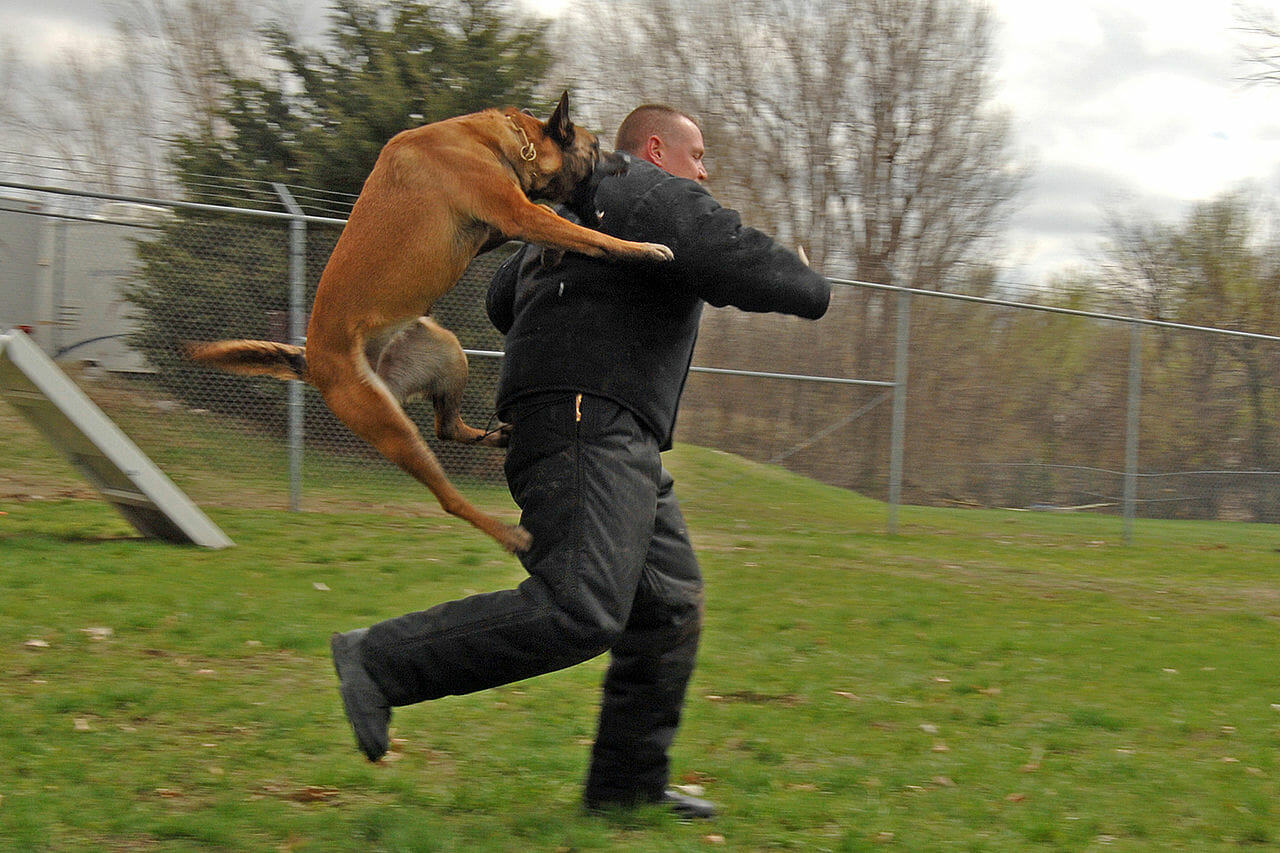 For any parent, it's the nightmare scenario; their child goes for a walk and a stranger nearly snatches off the street. In order to protect her privacy, the authorities did not release the dog and her family, but it is an alarming story. The 10-year-old took her dog on Friday afternoon for a walk in a block off Heather Glen Court, Woodbridge, Virginia, a few minutes before 4 pm.
As one might assume, the neighborhood was busy with the various comings and goings usually associated with that time. People were returning from the office, children were heading home after school … frankly, it makes the attempted kidnap that much scarier.
As per the police report, the suspect stalked the girl for a while. She soon picked up her pace when she noticed he was gaining on her, though he finally made his intentions clear by sprinting after her and grabbing a hold of her wrist.
The man was attempting to take her by force. Fortunately, her dog had other ideas.
The 10-year-old's protector responded ferociously. It bit the criminal on the hand, forcing him to ease up his grip.
Reportedly, the assailant was so stunned/ hurt that he fled the scene immediately, giving the girl time to get home.
Thank God for her canine protector!
The Prince William County Police Department reported the incident on their Facebook:
"*INCIDENT: Attempted Abduction | Woodbridge;
At approximately 3:50pm, the victim, a 10-year-old girl, was reportedly walking her dog in the 1800 block of Heather Glenn Ct in Woodbridge when an unknown man approached her and grabbed her arm. During the encounter, the victim's dog bit the suspect who then released her and fled on foot. A police K-9 checked the area. The suspect was not located. The victim was not injured. The investigation continues.
Suspect Lookout:
Hispanic male, unknown age, 5'3″, 145lbs with a thin build, short brown hair and a goatee. Last seen wearing a white striped shirt and light colored long pants."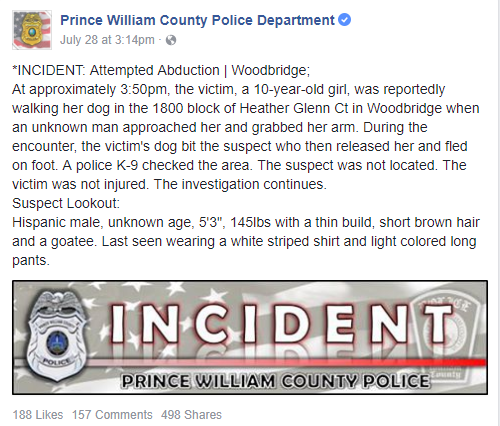 The post has since been shared almost 500 times, with internet users heaping praise on the heroic dog, who may have saved the girl's life.
Unfortunately, it doesn't sound like authorities were ever able to find the attempted kidnapper. They searched the neighborhood with a K-9 unit, but to no avail.