Weddings are beautiful and long-lasting marriages are even better. While weddings last only one day, they hold some precious memories and are a really significant part of your life. Couples are faced with trials and hardships every day and, through their love for each other and their trust in God, they persevere and push through. In September of 2004, an 84-year-old woman from Alberta, Canada, named Mary Grams lost her engagement ring while out in the garden. "I went to the garden for something and I saw this long weed. For some reason, I picked it up and it must have caught on something and pulled [the ring] off," she said.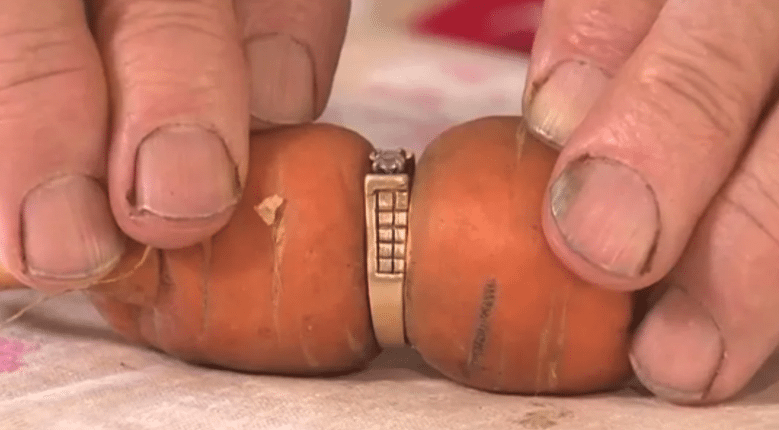 After relentlessly searching for the ring for weeks and crying over it for days, Grams finally gave up hope and bought herself another ring, similar to the one she lost, in hopes that her husband wouldn't notice. Thankfully, that's not the end of the story. More than 13 years after she lost the ring, it showed up again. It was her son's wife that discovered it. "My wife was digging carrots for supper, and I guess she came up with a carrot that had something on it," said Brian, Mary's son. The ring was wrapped around a carrot! It looked eerily similar to a chubby finger with the circulation cut off. Gram's husband Norman had passed away 5 years ago. Now that she's reunited with her original ring, she's going to make sure that it's never lost again. "Anything I do outside, I'm going to take it off and it's going to stay," said Grams.
Mary, 84, says she didn't know if they were kidding or not, but when her granddaughter brought the carrot over – she knew: "It's mine!" #yeg pic.twitter.com/Ft7IMUeSMR

— Sarah Kraus (@SarahNKraus) August 15, 2017
Share this story with your friends today to amaze them!