A mother from New York was expecting her second child when, just weeks before the delivery, she found out that something in her body was putting her and her unborn baby boy at risk. But, this medical issue had nothing to do with her baby, instead, there was something wrong with her own health that nobody could have expected. "I was taken by surprise. This is nothing I thought would happen," mom Carrie Thornley Fisher said. I was taken by surprise. This is nothing I thought would happen," said Carrie Thornley Fisher. "I was short of breath. I couldn't lay flat. I couldn't even go down the stairs."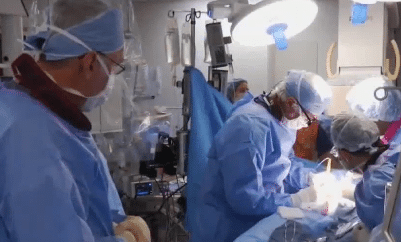 It turned out that Carrie was experiencing advanced heart failure. "When she arrived, she was so sick that at the time, the safest thing to do was to deliver the baby and take away some of the stress from her heart," Dr. Courtney Olson-Chen, who is a high-risk pregnancy specialist at the University of Rochester Medical Center, said. Then, on July 11, Carrie was able to deliver a healthy baby, Trevor. Trevor would leave the hospital to go home with his father and big sister, but Carrie couldn't come, she had remained in intensive care. "We started thinking what do we do to treat the heart so it can keep working, and we realized the answer was a transplant," Dr. Hima Vidula, who is a heart transplant specialist at URMC, said.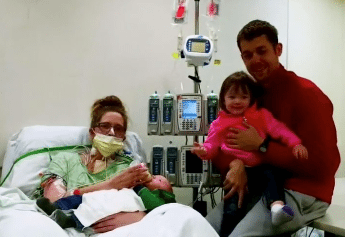 For most of the next two months, Carrie had to be hooked to a special machine that provided oxygen to her blood. Staying healthy during that time was excruciating. "Just waiting day by day for a heart. it's a very tough situation when you have a two-year-old and newborn at home," Carrie said. And this wasn't her first health scare. In fact, Carrie has fought tough odds before. The chemotherapy that helped cure her leukemia ten years ago may have been what was behind her heart failure now. On September 19, doctors were able to save Carrie's life again with a transplant. Becoming healthy again with her new heart took another month of intense rehabilitation. "Carrie showed a lot of strength. She went through a lot," Dr. Vidula said. "It's really hard for a new mother to be at the hospital and not be able to be at home with the baby." But, even though it wasn't easy, Carrie said that she had three very good reasons to work very hard at getting healthy. Not only is she thankful for her family, but Carrie also had a lot of support from the surrounding community. "The power of the community is huge. People you don't even know are praying for you," she said as she was overcome with emotion. "They really want what's best for you and they don't even know you."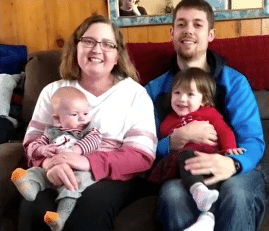 [Source/ABC 13 WHAM]
Share this story with your friends and ask them to pray for Carrie's continued recovery!