Fall is here, and the clock is ticking on creating some fun decorations.
Glow in the dark pumpkins are simple, fun to create and will look adorable at night.
What You'll Need
According to the I Love To Create blog, any pumpkins will do for this project—so the cheaper the better! If you opt for a real-live pumpkin you will just need to paint it white before you begin. Or, if you choose to go with a longer-lasting plastic pumpkin, you will still need to guarantee the neutral background unless of course you want to make life easier and buy white.
In addition to pumpkins and basic white acrylic paint as a primer for any non-white pumpkins you are painting, you'll need glow-in-the-dark craft paint, which you can buy on Amazon (if you have Amazon Prime, you'll get it for free in two days).
And, yep, that's it. Seriously. This project is all fun with very little prep.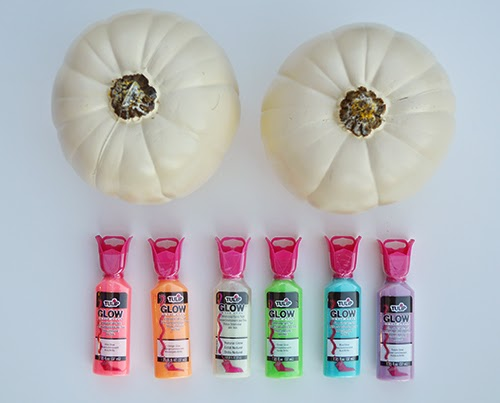 Create Your Design
The possibilities are endless here, but don't get bogged down in the details. Even the simplest designs are sure to look great when you light them up. We love these designs from Hip2Save, below. They look hip yet simple enough for a kiddo to tackle.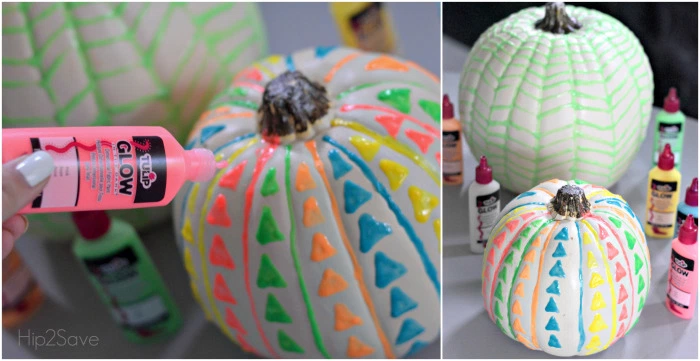 Let Them Glow
Of course they will look wonderful out on the front porch at night but consider a black light to really let these pumpkins shine. Especially if you plan to keep them indoors.