Weddings always have an element of surprise. God always blesses couples who come to him to declare their love for each other. You will remember your wedding for the rest of your life because this is the day when you profess your love for your spouse in front of God and all your loved ones. But, sometimes we also remember this event because something hilarious and out-of-the-blue happens. After all the important dances like the father-daughter dance and the first dance are over, the rest of the crowd gets to join in on all the fun. And, oftentimes you'll find a hilarious attention-seeker like this little flower girl. When Justin Bieber starts playing on the speakers, she can't help but move her body to the beat. She begins with a lasso motion, going all around the dance floor. When one of the wedding guests try to join the little girl, she just wouldn't have it! This girl is clearly the star of the show – she just wants to fly solo.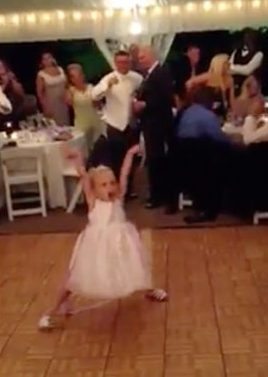 The entire wedding party can't help but crack up at the little girl's energetic moves. After realizing that there's no way they can keep up with all her energy, they step aside and let her have this dance. When the song finally comes to an end, you would think that the little girl had had enough. But 'Gangnam Style' comes on and it's clear to everyone that she was just getting started. Just like in the song, the girl imitates PSY with his famous dance move. She then soon switches back to the lasso move and the crowd is beside themselves with laughter. The same man who tried to dance with her on the previous song tries to join in again but soon realizes that he simply cannot keep up with all her energy and bows out. She dances so hard that even her little pink bow comes off.
Share this funny video with your friends to make their day a little brighter!