Losing a family member is always a tough trial to go through. We go and visit our loved one's grave to pay our respects, but what if a heartless thief had gone to that grave and stole the headstone?  Well, that's what happened to Corey Hoeffler and his family.
The family was heartbroken after their beloved father and husband, Ronald, passed away. Corey frequently visited Ronald's grave, in fact, he would go at least once every day and speak to his dad as if the man was still alive. Since Ronald was a huge Ohio State fan, his grave marker was hand-painted with the Ohio State logo. But, one day, Corey devastated to find that his father's grave marker had completely vanished.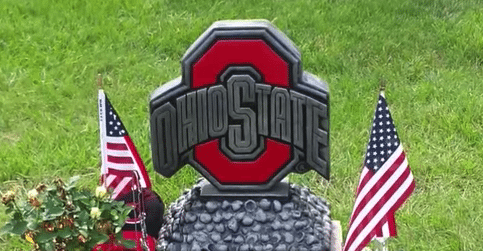 A heartless thief had gone into the cemetery and stolen the marker. They left no trace behind and the horrible crime just broke the Hoeffler family's hearts. The news about this crime spread throughout the community and local news stations picked it up. "This is a sacred ground," Corey said. "It shouldn't be touched in any way."
Soon after the news segment aired, an anonymous donor decided to do something amazing to help out this family and give them some comfort once again. The man, who did even know the Hoeffler family, secretly went to the cemetery and placed a brand new marker on Ronald's grave. The anonymous person even made sure to include Ronald's love for Ohio State in the new marker. So, the next time Corey went to visit his dad at the cemetery, he couldn't believe what he saw! Corey said that he is eternally grateful, but he still had no idea who this kind person was! Then, something even more amazing happened as the local news station was able to track the kind stranger down. Watch the heartwarming story in the video below and find out who was really behind this good deed:
[Source/Little Things]
Share this story and pray for continued healing for the Hoeffler family.