On Jan. 30, Carlos Hernandez-Isava and Maia Herman-Kitami, both residents of San Francisco, packed up their bright yellow jeep and headed out to Mendocino National Forest for a camping trip.
Herman-Kitami had never actually been around snow before, and the two were thrilled for their trip — but they never made it to their destination. Instead, their car got stuck as they were maneuvering in a blizzard.
Thankfully, since they'd already packed for camping, they had adequate food and supplies with them, and were able to insulate themselves, have access to their store of food and drink melted snow.
"We planned for the worse because you never know but you know there's always those moments of being scared," Herman-Kitami said.
When they didn't come back on Friday night like they were supposed to, their family was worried, and they called the police Saturday night. A search was started on Sunday, and by Monday they still hadn't been located.
On Feb. 4, the Glenn County Sheriff's Office wrote a notice regarding the two missing persons.
"Glenn County Sheriff's Office is actively searching for two missing persons: Maia Herman – Kitami, age 18, and Carlos Hernandez Jr., age 21," the post read. "Kitami and Hernandez Jr. departed San Francisco on Wednesday, January 30, 2019, to go camping in the Alder Springs area of the Mendocino National Forest."
https://www.facebook.com/causa.abierta.3/photos/a.330371013966889/818206335183352/?type=3
"Carlos Hernandez Jr. is 21 years of age and approximately 6-3", 140lbs with brown eyes and brown collar length hair. Maia Herman – Kitami is 18 years of age, approximately 5-4", 160lbs with blue eyes and curly brown hair. See attached photos of the missing persons and their vehicle."
In the meantime, the two stuck in the snow had written SOS messages but still hadn't been discovered. The snow was several feet deep where they were, and they had no idea how long they could survive.
Then on Monday afternoon, they heard an unfamiliar sound. "I heard this motor that was different," Herman-Kitami said. "I was like this is nothing like we've heard before. I pop my head up and I see this guy in a snowmobile and a full red suit and I was like holy crap."
They honked the horn as fast as they could and were saved. The guy on the snowmobile was Jason Logan, who'd decided to continue searching for the missing couple even after the search party of men in Jeeps had called it a day.
"I was kind of a sporadic spur of the moment thing on a Monday morning to just kind of load up these snow machines and head up on the hill," Logan stated.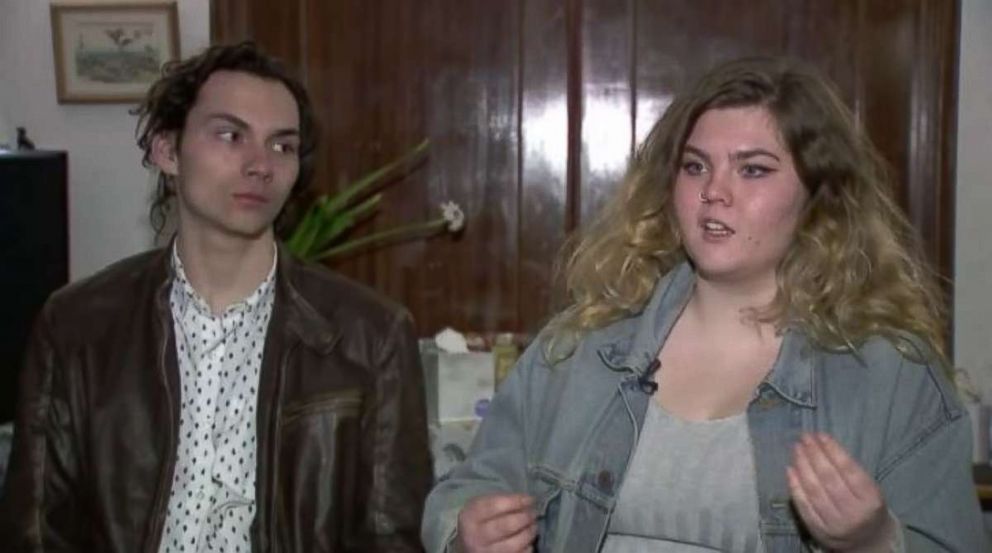 "They said you know it's getting late," he said, referring to the Jeep search party, "they were in four feet of snow so they'd gone as far as they could have went."
Just 200 yards from where Logan left the Jeeps, he discovered the lost couple.
"If the community didn't come together like this did for us, we may have not be found until Thursday," Hernandez-Isava said. "The scary thought is that if we would have stayed there and the car would have been covered we could have actually lost our lives."