As an old adage claims, "If there's a will, there's a way." This is what a woman from Nash County, North Carolina believes when it concerns hard work. We often complain about the little details in life, and we forget to appreciate what we have.
Jaylesha Corbett has to walk well over six miles every single day to get to and from her workplace at Bojangles' Chicken 'n Biscuits. When she looked for a job, she mistakenly applied for a wrong site so she had to endure an hour and a half of walking daily. She said, "So, I said since they gave me a chance and they hired me, I will do it."
She would have to leave her home at 3 o'clock in the early morning just to arrive to work on time for her 5 AM shift. Not once did she make a fuss. One morning while she was walking to work, she met Sgt.Scott Bass from Nash County Sheriff's Office. During his interview with ABC 11, he told them that he can still remember spotting a woman walking at an intersection at it was really, really cold. He said:
" I could see by her dress that she worked for Bojangles … You don't see a lot of people here that no matter what were the weather conditions that they're gonna walk "X" amount of hours for work, then stand up for another 8 or 9 hours."
The moment he spotted her walking in the cold, he immediately offered a ride in which she gladly accepted. Jaylesha can still remember that it was storming rather badly that day and she had no transportation and would have a hard time during extreme weather conditions. Everytime Sgt. Bass sees her walking the long road to work, he makes it a point to give her a ride. It came to a point that he knew he needed to do something more.
" It just kind of really weighed on me and bothered me, and every day that I gave her a ride I just, for some reason, just talked to my wife about her."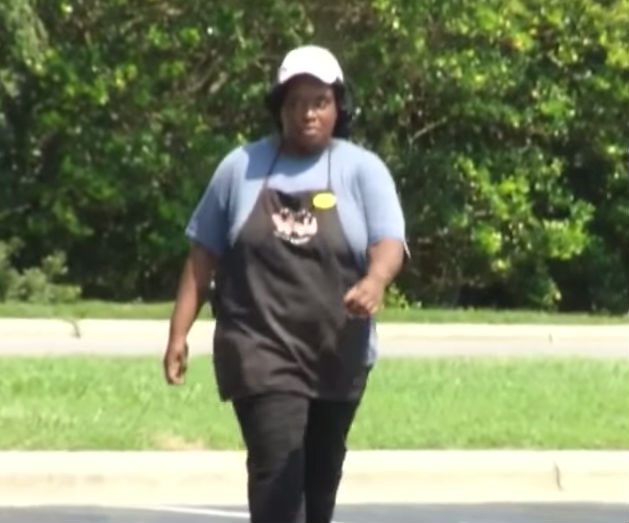 Sgt. Bass is really hoping that he can by some means make Corbett's life less complicated so he formulated a plan. He contacted Walmart in Nashville and talked with the managers. Collectively, they were able to come up with a fantastic way to support this hardworking woman.
As it turned out, Bass was looking at an incredibly exceptional present for her and the store manager, Iris Pierce, donated it to Corbett. The very next day, their one concern was to transport the gift.
Right after Corbett opened her front door that morning, she was alarmed when she encountered an officer outside. Sgt. Bass assured her that she did not do anything out of line, and rather, shared the true reason for his visit. Corbett recollected, "I was shocked. I didn't think it was real."
This compassionate action was covered by the local news station and the officers kindness has been going viral.
The Chief of Nash County Sheriff's Office, Deputy Brandon Medina, mentioned that he was humbled by Sgt. Bass's efforts when he asked if it would be alright to assist Jaylesya and also to observe the happiness and joy because of his actions. He went an extra mile and this is such a terrific story to share.