Christian Tips Server With Fake $20 Bill
The hospitality industry is a big business and brings in significant dollars. Not everyone gets a share of the dough, though.
Garret Wayman, a server in Wichita, Kansas, works hard for his money. Since servers receive tips, they typically get a reduced hourly rate of pay. Some servers wages are as little as $2.13 per hour. That's one reason tipping is essential.
Wayman, a high school senior, was excited when he saw the twenty-dollar bill left by a customer. When he picked it up, however, it wasn't what it seemed to be. The 'tip' was a gospel tract printed to look like a twenty.
Garret was angry, and understandably so. While he doesn't mind if folks leave Bible pamphlets, he wants everyone to know that people "don't work for fun." Making just $3 an hour, Garret says tips ensure that he can bring home enough to get by.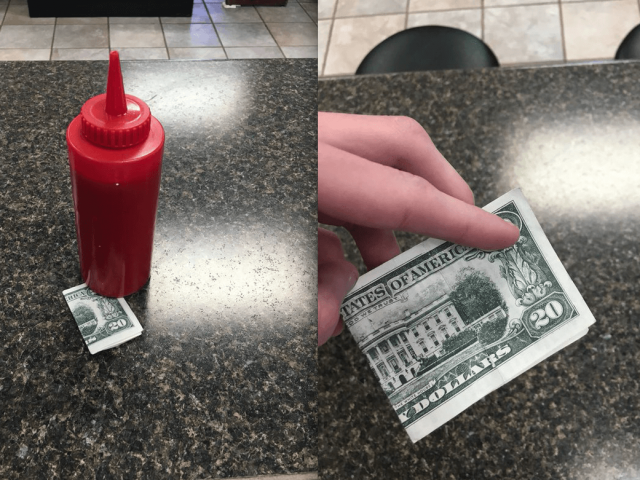 Servers are an integral part of dining out. While many envision them merely pouring tea and clearing tables, in reality, the job is so much more. A good server knows how to keep guests satisfied without hovering. In the fast-paced world we live in, that is easier said than done. Servers are also responsible for much preparation beforehand, and clean-up after the shift is over.
Fake $20 bill tracts have circulated for some time now. Wherever we go, Christians share the good news of the gospel. The counterfeit bills; printed with the words "There is something you can have more valuable than money." While this is true, and we must share the gospel, pamphlets should be left in addition to an appropriate tip, not in place of said tip. As Candace Cameron Bure said, it's the worst representation of a Christian if you leave the pamphlet itself.
A similar incident at another restaurant prompted manager Penny Craver to write a letter to the pastor of the church listed on the pamphlet.
"Pastor Simmons:
I am the general manager of Dish (restaurant) in Plaza Midwood. Imagine one of my server's surprise when she received a small pamphlet (Every one of us will face eternity one day) instead of a tip when she served what I assume was one of your congregation. Her particular religious beliefs are not discussed at work; however, I do know that this pamphlet can not pay her mortgage or her electric bill. It concerns me that someone would consider a pamphlet fair monetary exchange. Suppose your congregation felt it was sufficient to tithe their personal writings instead of 10 [percent] of their income. Your church wouldn't be paying their bills for very long. I think it would be great if you used this in a sermon."
The pastor took her words to heart and spoke with the congregation member who left the tract. Both assured Penny it would not happen again.
Next time you're dining out, remember to thank your server for helping make it an enjoyable experience. Even if the service is not everything you think it should be, try to put yourself in the server's shoes. It's not as easy as it looks!