Each of God's creation has a beauty of its own, and it takes a good observer to notice this beauty after all. Horses are marvelous creatures and they are known to be obedient and smart when trained well. Each breed of horses is trained for a different purpose. But then all horses love to have some fun much like other animals. The horse in the video instantly falls in love with a soft toy given to him and the way he reacts after that is something that you should not miss!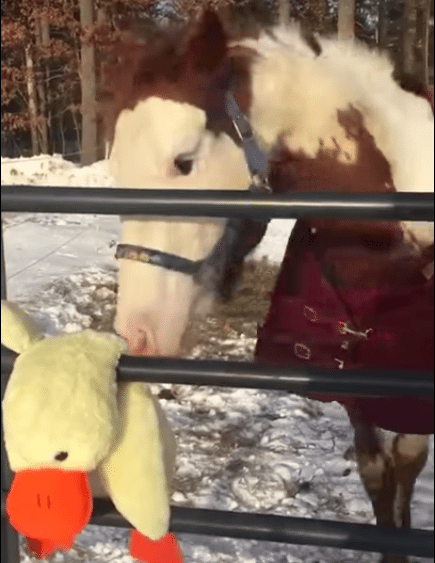 Horses are strong animals and they can be trained to carry out some tough tasks. But the horse in this video showed that no matter what breed the horse is and no matter how old it is, it is still playful on the inside. Snipes is a young horse from the Kiskel Farm in New Hampshire. The video of Snipes playing with his plush platypus has been doing the rounds on the internet and has received millions of views. What is so charming about the video is Snipes' excitement that shows just a few seconds after he finds the soft toy. The snow was quite heavy in New Hampshire. This weather, however, hasn't affected Snipes' spirits. The video starts with Snipes curiously examining an adorable yellow platypus plushie hanging on the fence. After carefully examining it and finding that it is surely something interesting, Snipes is then seen pulling the toy down. It takes hardly a few seconds for Snipes to develop a liking towards the toy. That is when the playful side of this American Paint horse comes out in full swing.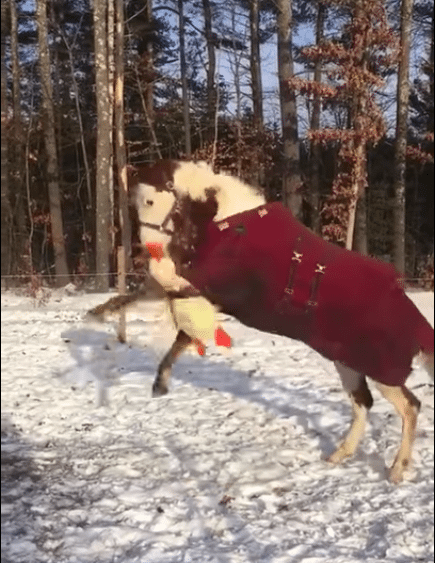 The video captured the child-like excitement that Snipes displayed while exploring and playing with his new found toy. The video shows him jumping around happily. It is such a heart-warming sight to see the horse let out his fun side. The pure sense of happiness that he is seen displaying in the video is amazing. He even gets a little too excited and ends up throwing the soft toy away from the fence. He gets the toy back and then resumes his playtime with the same excitement. The video was shot by Milly Mallard, an employee in MKM Equine. When he posted the video on social media, he wrote, "I aspire to be as happy as Snipes with his stuffed animal".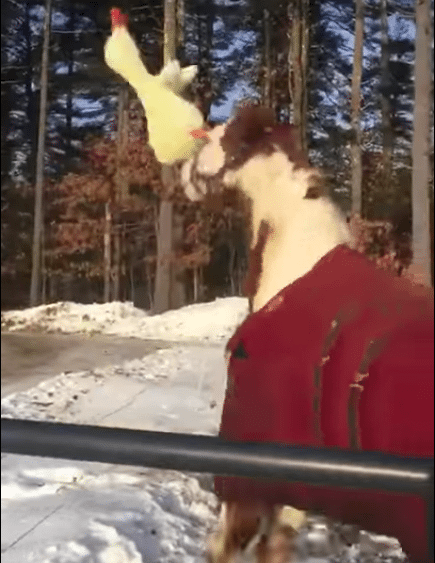 Though this is such a simple video, it has been shared thousands of times and people all over the world have fallen in love with this little horse. The reason behind the popularity of this video is the fact that everyone loves the display of happiness and the excitement that Snipes is seen displaying in this video is purely contagious. You cannot help but feel light and get a smile on your face when you watch this video. After all, Snipes reminds us of one important thing- real happiness lies in all the tiny details that we often fail to notice.
Share this story with your friends who love horses to make them smile today!