Zane Omlid classmates were constantly calling him names and teasing him.
His parents say that their son was also pushed, assaulted, and even written on with markers.
However, it seemed nobody cared.
But one day a group of tattooed bikers in leather vests came into town to sort things out.
The 13-year-old student had been suffering from the cruel taunting and hitting from classmates who had been teasing him for at least two years at his middle school in Minnesota.
Many schools have policies that can lead to a suspension if students are caught hurting other students, but sadly, it didn't seem like Zane's school was doing anything to help his situation.
So when a group of bikers heard about Zane's situation, they wasted no time in making their presence known in Zane's neighborhood.
A group of bikers known as Syd's Angels: Bikers Against Bullies, pulled up outside Zane's parent's house.
The group of concerned bikers wanted Zane to know he was not alone, that he had friends by his side, and that they had his back.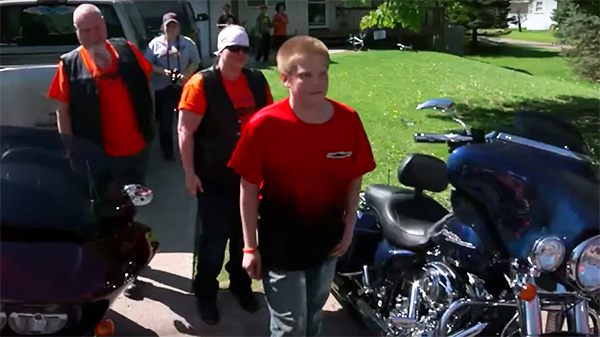 Founder Greg Carson, a bald, tattooed biker in leather yelled out: "We are looking for a 13-year-old named Zane!"
He asked the boy to come outside to meet them, where Greg Carson presented Zane with a T-shirt and the group prayed together.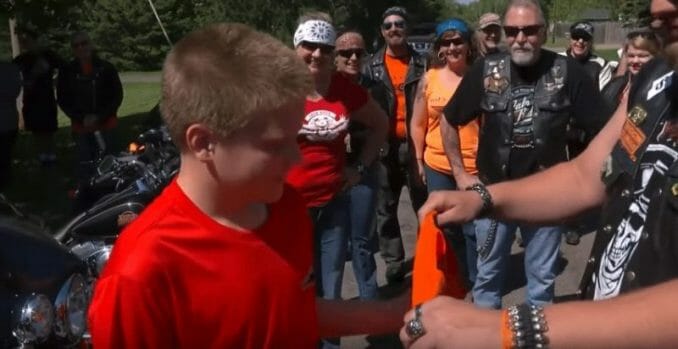 Zane came out to meet the bikers, his mother behind him, and went up to shake hands.
The eye-catching group then took a motorcycle ride through the community with Zane. Of course, Zane was happy, too, as the bikers made it clear that whoever was tormenting him was finished.
The boy was so grateful and he hugged many of the bikers.
Syd's Angels Bikers Against Bullies was created after members heard how a girl named Sydney was being bullied. One day, she was lured out in the woods.
Two girls, aged 19 and 15, began to beat up Sydney as another recorded a video with a cell phone that they then uploaded to Facebook and YouTube.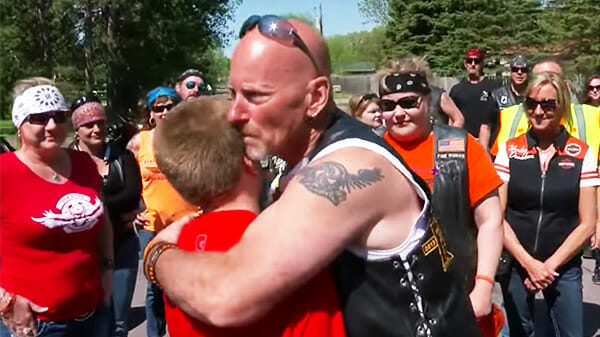 That video went viral and soon seen by local bikers who were outraged and decided enough was enough.
The bikers wanted to show kids in the community who are bullied that they don't have to face their tormentors by themselves.
Hopefully, the sight of the bikers did what it intended to do and left Zane's bullies knowing what it feels like to be intimidated.
"Today is just the beginning," Carson told the 13-year-old Zane. "We love you, we don't even know you but we love you."
Zane's mom was undoubtedly moved when she met with the bikers. Through her tears, she shared what hell her child was facing daily at school.
The strong statement of solidarity gave Zane's confidence a much-needed boost. Now the cowardly bullies hopefully knows that their behavior is't going unnoticed.
Happily, this meeting seems to have had an effect. Today Zane is looking much happier in school.
Please share this great story on facebook. Help us continue to bring family friendly content to the world. Each click, share and like helps.
Also, at Jesus Daily, we love hearing all of your opinions. So please let us know what you think of this story in the comment section.